Swagbucks Review
Swagbucks Review [Updated: 2022]
Swagbucks is a website where you can earn points for doing things like shopping, exploring the web, watching movies, playing games, printing coupons, and taking surveys.
When you perform one of these tasks, you will receive SBs, which can be exchanged for cash or gift cards.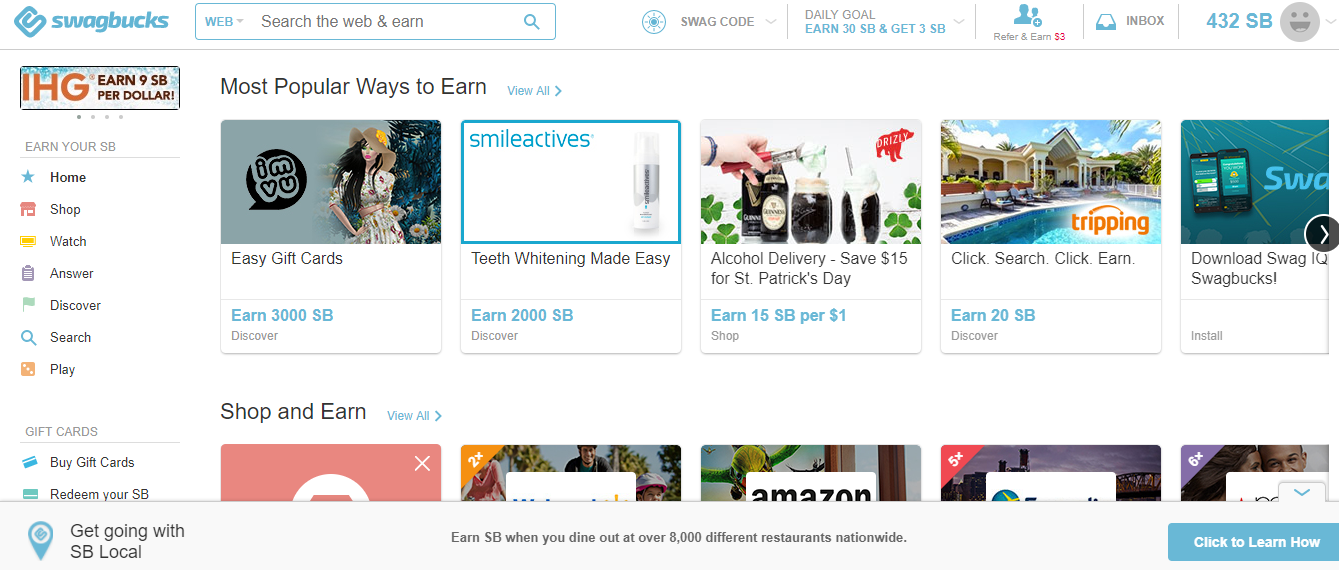 How does it Work?
Swagbucks membership is straightforward to obtain. Begin by signing up for their newsletter or downloading their mobile app (available on both Android and iOS). After then, you can earn SBs by participating in a range of activities such as taking surveys, shopping online, watching videos, and so on. After that, you can trade your SBs for gift cards or PayPal cash.
Residents of the United States, United Kingdom, Canada, Germany, France, Spain, India, Australia, and Ireland can join for free (and new members get a $5 welcome bonus!).
How To Earn More SB's
You'll see Shop, Search, Watch, Play, Answer, and Explore links after logging in to their website (or app).
Shopping on the internet:

Swagbucks rewards you with "cash back" when you shop at major online retailers. Amazon, Walmart, Best Buy, and other retailers are among them. Simply visit the Swagbucks shopping page and select the online retailer from which you want to make a purchase. Swagbucks gets a commission on your purchases and will give you a percentage of it in the form of SBs for every dollar spent.

Searching:

'Swagbucks Search' is a search engine offered by Swagbucks. You can earn money by using it in the same way that you would a traditional search engine. If you do a lot of online searches in a day, this is a wonderful method to gain SBs quickly. Install the Swagbucks Chrome browser extension to make it simpler to get into the habit of using Swagbucks Search instead of Google, Bing, and other search engines.

Viewing Videos:

You may earn Swagbucks by watching videos about music, news, entertainment, pets, travel, and more using Swagbucks watch. Although the earning potential is limited, it is still a fun way to earn SBs.

Taking Surveys:

Swagbucks can be accessed at any time. Take surveys and earn points by answering questions. Swagbucks has a large number of different online surveys that may be completed for cash. Each survey will specify the amount of time it will take to complete, the study's topic, and the number of SBs you will receive. Product testing possibilities arise on a regular basis. Expect to earn between 40 and 200 SB points for every survey (100 SB = $1), with the possibility of earning up to $50 (5000 SB) for longer and more difficult to qualify for surveys.

Discovering:

The 'Discover' section of Swagbucks is one of the most efficient methods to earn SB rewards. Signing up for goods and service trials (things like TIDAL music streaming, audiobook trials, gambling website trials, etc.) or opening a new credit card or bank accounts can earn you a lot of points. Log in to your Swagbucks account before signing up for a new credit card, bank, or financial instrument (such as a new type of investment account). Simply by clicking through to the service provider using your Swagbucks account, you might earn hundreds of SBs.

Grocery Coupons to Print:

Swagbucks has printable coupons for cleaning products, diapers, toothpaste, sweets, and other items under the 'Shop' area (depending on your country of residence). You will receive 1 SB for each coupon you print. The SB will appear in your account a few weeks after the redemption; however, without the added benefit of receiving SB points, the printable coupons offered on this section of the website are generally for products that you already buy and from big brands like Swiffer, Mr. Clean, Febreze, Pampers, Crest, Becel, and others.

Referring Friends:

If you have friends who would be good Swagbucks prospects, make sure to refer them so that you can earn 10% of their earnings (as they remain active). For example, if your referral earns 5,000 SB ($50) in their first month, you will receive a $5 bonus (500 SB). Simply sign in to your Swagbucks account to obtain your unique sign-up link, which you can then share with friends, relatives, on your blog, and so on.
You can redeem your SB's for two main reward options: cash, or e-gift cards. One SB is worth approximately 1 cent, so 2500 SBs = $25.00 for instance. To date, Swagbucks has awarded over 500 million dollars to their members!

Mode Of Payment & Reward System

Payments using PayPal
If you prefer actual cash, you can request a PayPal payout to your PayPal account and swap your SBs for cash. Payments are made in US dollars and take 10-14 days to process, regardless of where you live. If you are outside of the United States, PayPal can change this USD into your local currency for you immediately, or you can keep a separate USD balance in your account if you like. PayPal payments are available in the following amounts: $25, $50, $100, and $250.
Bundles of e-Gift Card options are available
You can receive a gift card with a lower amount if you choose to redeem your SBs for a gift card rather than a PayPal payment. Gift cards come in a variety of denominations, ranging from $1 to $100, depending on the merchant. E-gift cards are available from a variety of companies, including Amazon, Home Depot, Starbucks, Facebook, iTunes, a wide range of restaurants, hotels, and more, and are issued within 10 days of request. There are denominations ranging from $1 to $100.
You can also donate your SBs to nonprofits like Unicef, Doctors Without Borders, and the Red Cross. The minimum donation amount is 5 SB ($0.05).
Swagbucks Various Benefits
Bonuses
Swagbucks gives daily goal points, and if you meet the daily goal at the end of the day, you'll get bonus SBs. Simply log into your account to discover what your daily target is for that day. You'll get extra bonus if you meet the daily objective for seven days in a row. Bonuses are usually paid on or around the first of the month.
Swagbucks is an extremely popular site with a large community.
Swagbucks has over 13 million users and 2.4 million Facebook likes and has been around since 2005. They have given out over 650 million dollars in prizes to their users, making them by far the largest GPT website on the internet! They give out 7,000 gift cards to their members every day.
Eligibility: Swagbucks is open to residents of the United States, the United Kingdom, Canada, Germany, France, Spain, India, Australia, New Zealand, Portugal, and Ireland who are 13 years old or older.
Swagbucks Competitors
If you've already signed up for Swagbucks and want to try something new to supplement your income, there are literally hundreds of options available. Here are some of our recommendations. Cinchbucks is a survey-based site that offers over 80 gift card selections and a 50 CB registration incentive. Online surveys, a terrific referral scheme, and more are all available with Branded Surveys. Cinchdollars is a fun community where you can earn gift cards by doing surveys, creating surveys, and answering daily polls.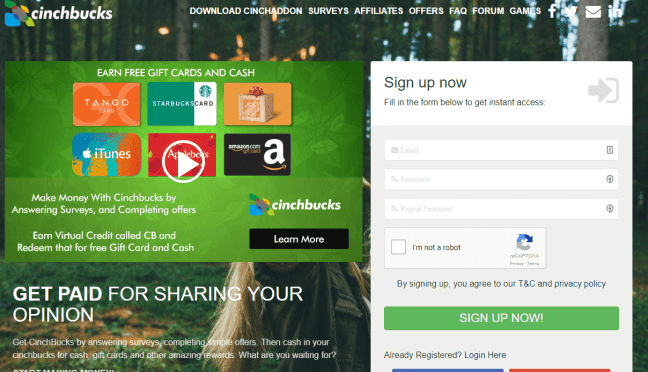 Cinchbucks is a for-profit online market research company that pays customers to participate in activities they enjoy. This paid survey site allows anyone to sign up for free. Cinchbucks is the most well-known paid survey website in the world.
You may use PayPal, Visa, and Mastercard to redeem your points, as well as a variety of e-gift cards from your favorite stores, like eBay, Amazon, iTunes, and Walmart.
It's the most well-known, reliable, and dependable online survey service, and it's available in every country.
Check out Cinchbucks Surveys Latest Review Here...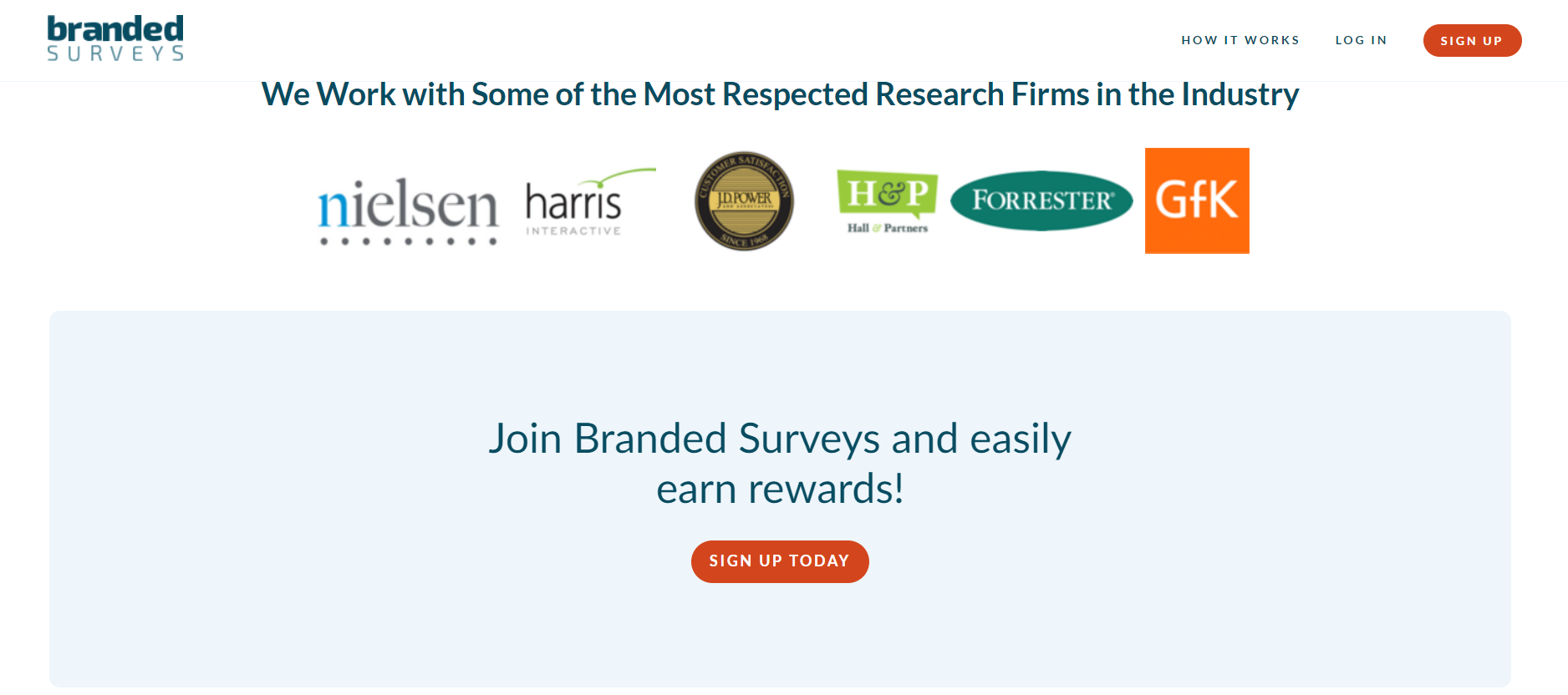 Branded Surveys is one of the more popular and reliable survey organizations, with a few million active consumers. They also have a high TrustPilot rating (now 4.3 out of 5), which is unusual in this industry.
Branded Surveys, focus primarily on surveys rather than offering customers a range of ways to earn money. This is an excellent place to start if you're looking for a way to make money from your spare time.
Check out Branded Surveys Latest Review Here...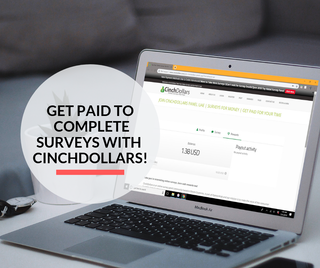 Cinchdollars is an online data research firm whose mission is to assist large corporations in gathering consumer opinions on a number of topics. Cinchdollars is a well-known leader in offering consumer feedback from all around the world. Cinchdollars accepts e-gift cards and PayPal cash as payment methods. In eleven various nations, the website's UI is user-friendly and simple to use, and it has a good privacy policy.