Branded Surveys Review
Blog branded SURVEYS REVIEW: LEGIT OR SCAM? (FAST REWARD)
Branded SURVEYS REVIEW: LEGIT OR SCAM? (FAST REWARD)
Looking to make some extra money online in your spare time? Here is the branded surveys review for you.
Branded Surveys is a popular survey panel that pays cash to you in exchange for your opinions through simple online surveys.
But is Branded Surveys as real as what others are saying, or is it just another scam survey website that deceives you into thinking it will help you to make some extra cash in your spare time?
In this Branded Surveys review, I'm going to explain to you all about my experiences with this survey website and what you can assume to get in return for your efforts.
Table of Contents
ABOUT branded Surveys
HOW TO SIGN UP?
HOW TO EARN FROM branded Surveys? Other earning opportunities
Branded Surveys Reputation. Is Branded Surveys a Scam?
FINAL VERDICT
ABOUT branded Surveys
First, let it be known that Branded Surveys was formally known as Mintvine. They changed their name in November 2017. Mintvine (Branded Surveys) is a marketing research company that allows paid surveys to its users. But what makes Mintvine (Branded Surveys) unique? They give its users the chance to gain rewards for shopping, taking part in focus study groups, and much more.
Absolutely, Branded Surveys visual image is clean. Their full information is open and explanatory on their homepage. They have a short introduction video that gives new users the scoop on what their site's all about.
Through branded surveys review, I discovered that they're run by Branded Research Inc. with bases scattered worldwide. A rather popular marketing research firm, it's also a member of the ESOMAR (The European Society for Opinion and Market Research). Knowing that a potential survey site is operated by a legit company is encouraging. If you are interested to know more about Branded Research Inc., check out their website.
Apart from all these things, Branded Surveys is a trusted Facebook partner and has accreditation with the BBB (Better Business Bureau).
HOW TO SIGN UP?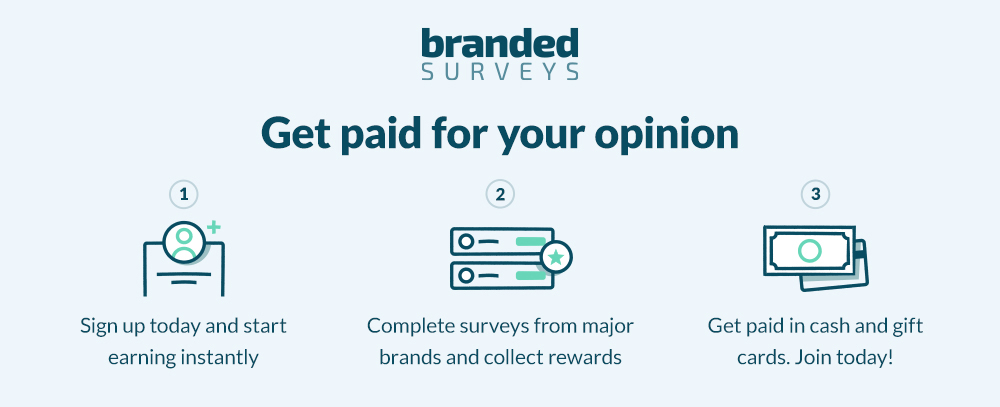 Signing up Branded Survey is quick and free. You just have to give your name, email, and password. Alternatively, you can choose to sign up with your Facebook account directly.
You'll need to confirm your registration via email, then make sure you answer the profiling questions. This will be basic info that should help to match the right surveys. You will get 50 points for finishing this and it's the first thing you need to do.
Firstly, I like the layout of branded surveys. It has an attractive interface and you can easily find what you need. You can see surveys available for you on the main dashboard, including a prediction of survey time and reward.
Mostly I've seen surveys seem to be under 100 points, ($1). I also saw one for 300 points, but I am not qualified for taking part in it. The whole site is easy to operate and seems professional.
There is a large bar along the top of the screen that shows points which you've made and how far you are from cash-out. I think this will invigorate people to keep performing to make it to at least their first $10!
HOW TO EARN FROM branded Surveys?
Branded Surveys uses a points system. Once you have accumulated enough rewards points you can cash them out.
Here 1 point equals 1 cent and ​100 points are $1.00 and so on. Points can be exchanged for various retail shops, restaurants, and gift cards as well as via PayPal or Branded Pay.
Online Surveys – Basically, Pay per survey ranges from 10 to 300 points, and the average survey period is 10 – 20 minutes.
Survey Streak – In branded surveys, Silver and Gold members can earn extra points for completing a set number of surveys within seven days.
Silver Badge User – If you are a silver badge user then you can make 100 points, by completing 10 surveys in 7 days and 150 points by completing 30 surveys.
Gold Badge User – If you are a gold badge user then you can make 200 points by completing 10 surveys in 7 days and 300 points by completing 30 surveys.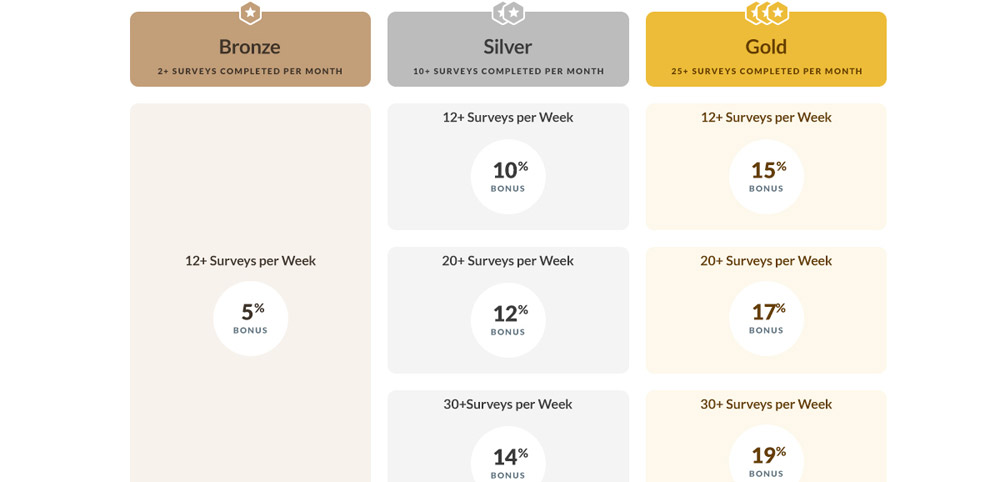 Other earning opportunities
Local Offers & Deals – These are savings from local stores you'll find listed in your dashboard (if available in your area).
Daily Polls – branded surveys have daily polls. They don't pay much, but they're an easy and quick way to earn a few points.
Bronze – earn 5 points
Silver – earn 7 points
Gold – earn 10 points
Poll Streak – If you complete 10 consecutive polls in a day, you can earn 25 points. Silver members earn 50 points and Gold members earn 100 points.
Third-Party Offers – You can also get points for signing up for various free trials but remember to cancel the trials you don't want before the monthly fees kick in.
Refer-a-Friend – If you join branded surveys then you don't eligible for the refer-a-friend program because of the Bronze badge. You have to upgrade it to silver Badge member to earn 50 points for each referral and Gold Badge member to 100 points.
Branded Surveys Reputation.
branded Surveys has a good reputation online, with lots of good feedback. It has 4.3 out of 5 stars on Trustpilot and over 45,928 reviews.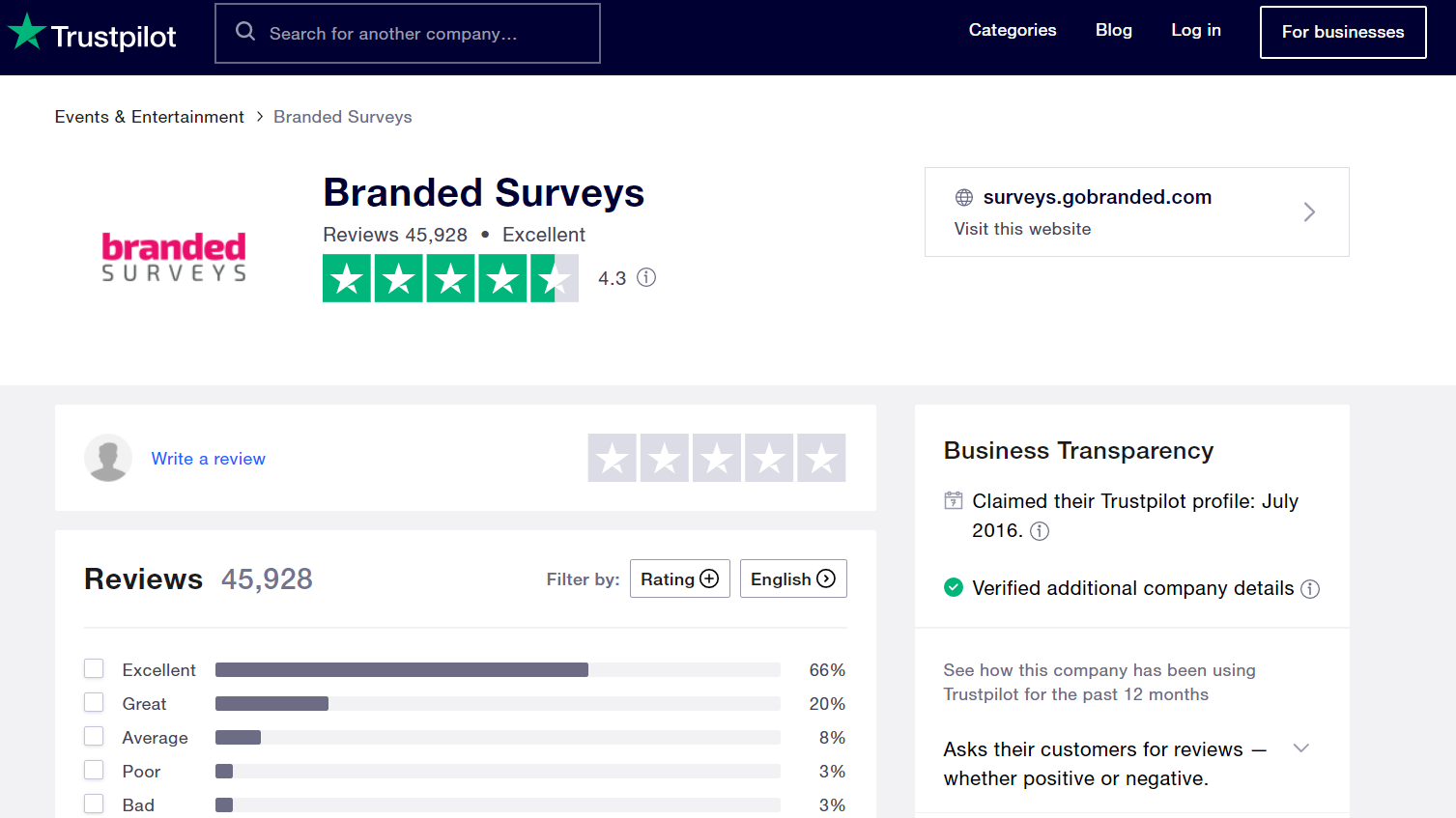 However, some users have been complaining of not receiving their rewards or not getting support from customer service.
That being said, the Branded Surveys team settled this problem and are now trying to fix the damage and have been working hard to restore their good reputation after this mini blip.
I have seen that they are very quick to reply to comments about them online. Individually, I like to see a company trying to protect its brand and actively working to resolve issues directly with their users.
Is Branded Surveys a Scam?
Ultimately, it's not a scam at all as per my branded surveys review. It's a legit platform and there's nothing wrong with it. It's a very popular and reputable survey site.
Another great GPT (get paid to) option is Cinchbucks. So, you can try it if you want to make good earnings.
ALSO CHECKOUT:- WHERE TO FIND FREELANCE JOBS (2022)
FINAL VERDICT
After my branded surveys review, I can say that it is an opportunity that is worth checking out.
I didn't fully recommend the site yet, because of its complicated referral program and the long delay before they will give you the points for finishing a survey.
There are also some recent complaints about the limited availability of the surveys and its income potential. It's possible to make $50 a month here, but it will take some effort and luck on your part.
Apart from all, branded surveys is only available only to the US, Canada, and UK residents. Apart from it, Branded Surveys is a nice opportunity to earn money. So, you can try it out yourself.
CHECKOUT:- Only 6 legitimate paid survey sites you will need in 2022
If you do happen to still have any further questions or comments though that you feel I haven't covered then don't hesitate to leave them below & as always I'll do my best to answer your queries as soon as possible.