Tellwut Review
Tellwut Reviews: Is it a Scam or Legit? (Free 250 points)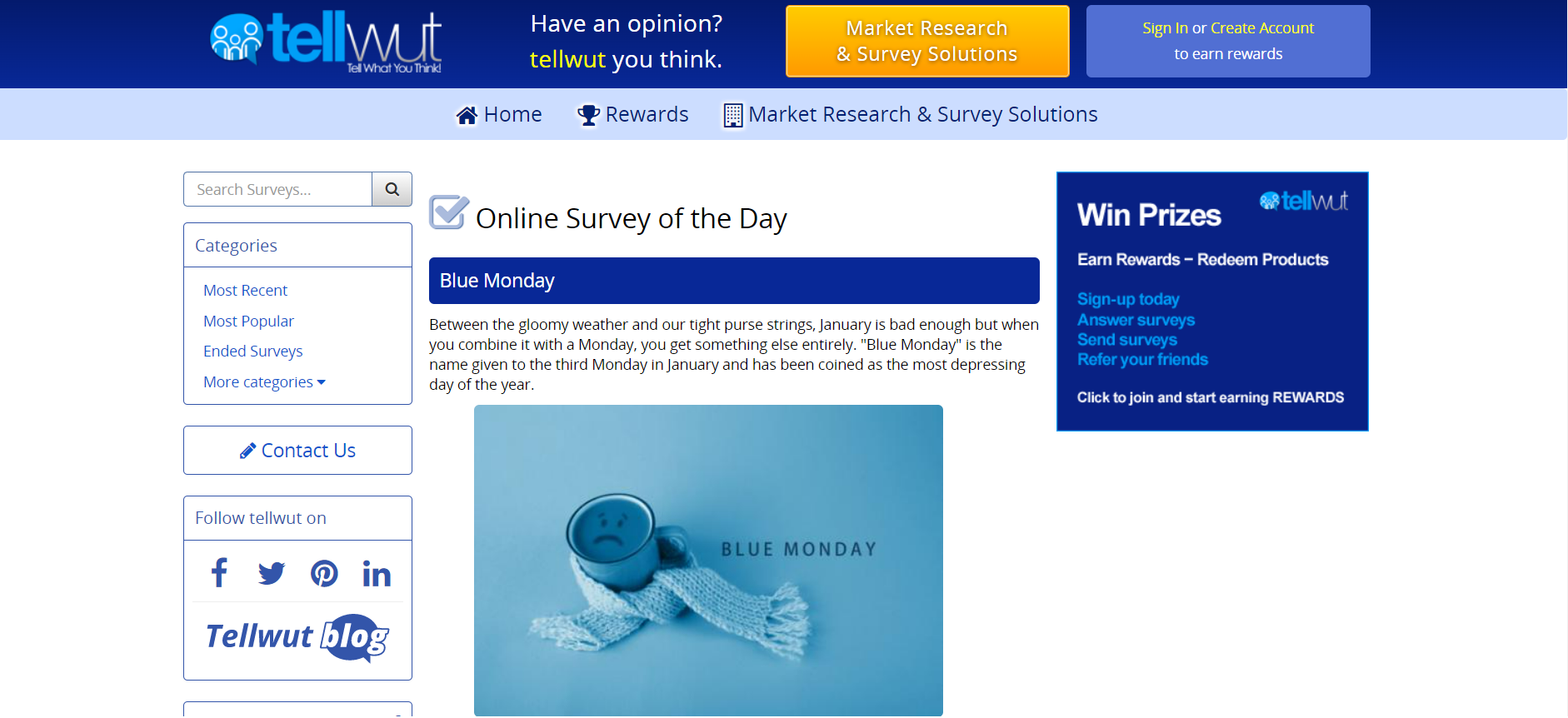 Tellwut offers free 250 reward points when you complete the full registration process. Is it really the best-paid surveys panel to make money online? Is it worth to join? Let's get started with our Tellwut review.
Table of Contents
About Tellwut
Tellwut is an online survey panel in which organizations and individuals based in North America, sharing their feedback and views on several topics through the Tellwut online survey tool and social media platform. Tellwut users join in surveys and social media activities; getting rewards while being involved in the Tellwut community experience. The panel expands yearly and boasts 600,000+ members.
How to Join?
The sign-up process of Tellwut is free and easy. You only have to visit the website and share your basic details like email, user id, etc. You can also simply sign-up with your Facebook account. After sharing your all details, verify your email. A verification mail will be sent to your email for verification.
If you choose the Facebook account to sign-up then you don't need to verify your mail. Just login to your account and start taking surveys to make money. Also, you must be a resident of the USA and Canada to join it. They only allow one account per household. Users creating multiple accounts will be closed. You must be above 18 to join this panel.

Get Points to Earn Rewards
Tellwut gives points whenever you complete a survey. Points can be anywhere from 5-2000 points, so you have opportunities to collect points fast! For example:
Complete a survey: 5-15 points
Create an approved public survey: 10-20 points
Complete an external survey: 25-2000 points
Types of Surveys Offered
Fun polls created by members (2 postings per week maximum) or presented by businesses. Members can log in to their accounts daily to complete surveys and do not have to wait for e-mail invitations.
Survey Duration
In my Tellwut review, each survey/poll available usually takes less than 1 minute to finish, and many new polls are accessible on the website daily. Once the surveys have ended you may browse through the results to see how your answers piled up when compared to others!
CHECKOUT:- PEOPLE'S CHOICE 2022-TOP-RATED SURVEY PANEL
Survey Availability
Users of Tellwut can simply log in to their accounts to complete all of the available surveys for that day – invitations to surveys are not typically emailed.
Most survey points are awarded immediately after you complete a survey, although hardly some surveys must close before points are awarded. Allow for 10-15 days to get your points from survey participation.
Withdraw Your Rewards

Tellwut rewards can be withdrawn starting at 4,200 points ($10.00), though more rewards are accessible at 10,000 points ($25.00). Pick from a variety of gift cards options from Visa, Cineplex, Amazon, and Walmart, or merchandise such as a t-shirt or Motorola tablet.
Your order will be met within 10-15 business days of withdrawing. Shipping times differ by area though some gift cards are accessible in electronic format, and will be emailed.
Refer a Friend
Tellwut has a refer n earn program. For every friend you invite, you will earn 25 points! You can get your "Refer Friend" link under your account balance.
Point Distribution
You don't just get points for surveys! Just signing up gets you started on your way towards getting rewards:
Sign-up account: 100 points
Update profile details: 200 points
Refer a friend: 25 points
Support Staff!
If you ever fall into issues with the panel, you can contact via the contact form online or email Tellwut at support@tellwut.com. They will usually respond within 48 hours!
Final Verdict:
Tellwut is one of the simple survey sites. It is not a scam website but you don't become a millionaire by joining it. It will help you to earn up to $50 a month. But I don't recommend you to join this website.
There are many best survey sites like Cinchbucksand Swagbucks. You can check out these GPT sites to make a good amount of money. I hope this Tellwut review will help you.

Please, Let me know your opinions and experiences below with this article. I would love to hear from you. Also, don't forget to bookmark this page for getting interesting articles. Have a good day!
If you do happen to still have any further questions or comments though that you feel I haven't covered then don't hesitate to leave them below. As always I'll do my best to answer your queries as soon as possible.
CHECKOUT:- PEOPLE'S CHOICE 2022-TOP-RATED SURVEY PANEL
ALSO, READ OUR RECENT ARTICLES:-
How To Make Money From Facebook (Earn a Passive Income)
Data Entry Clerk Jobs (Earn up to $17 per hour)
8 Best Ways to Exchange Coins for Cash (Boost Your Savings)