Surveytime Review
Survey time Review (Earn Instant Payment)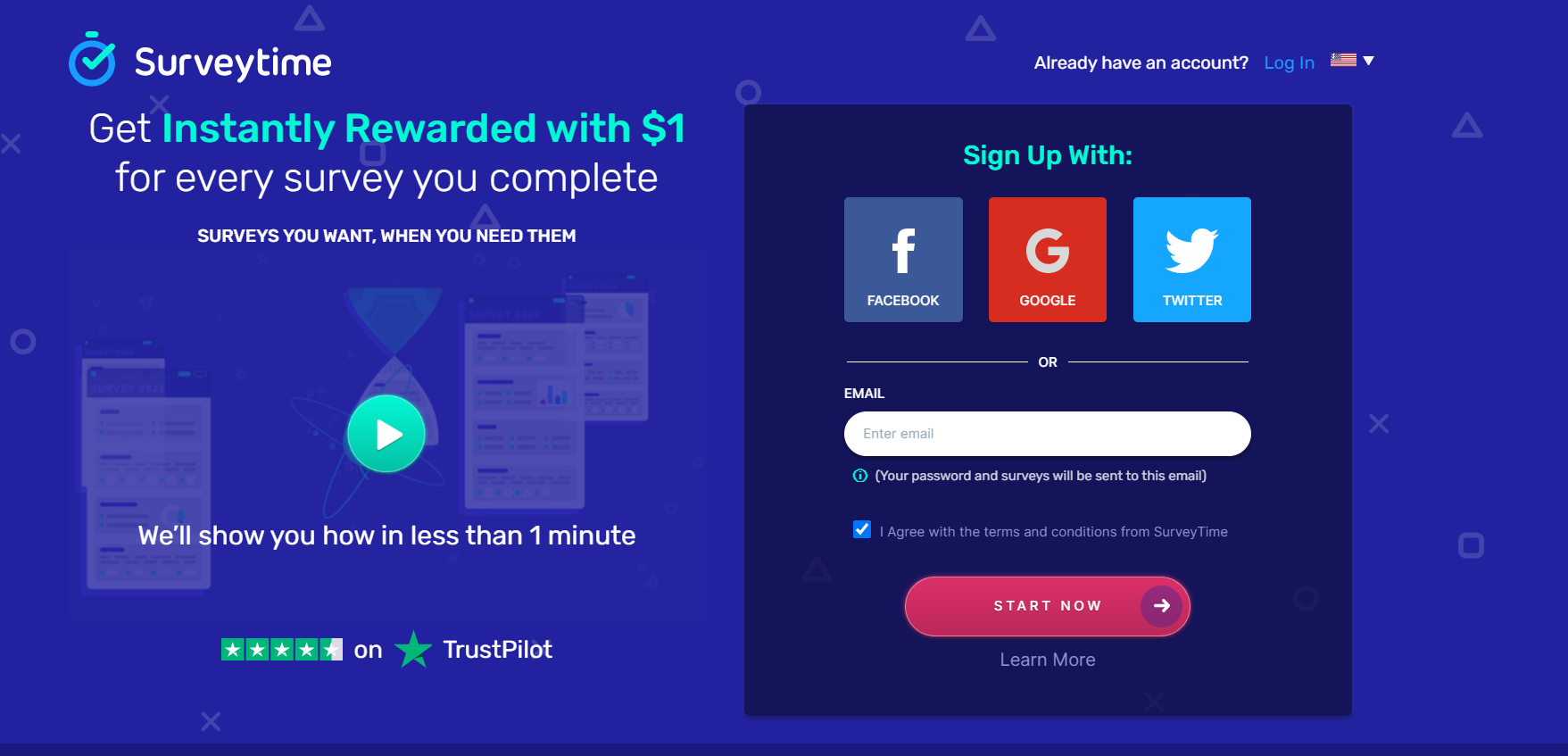 SurveyTime is a different, instant-paying survey site that has just been added to the fun-surveys directory. Receive $1.00 immediately after successfully finishing a survey, with payment made to your PayPal account or by receiving an e-mailed e-gift card code. In this Surveytime review, I will discuss all the points briefly.
Table of Contents
Survey time Sign-up
No points systems
Earn PayPal and e-gift cards
The device of your choice
International Accessible
Is it possible to receive help on it?
Complaints about survey time
Final Verdict
CHECKOUT:- PEOPLE'S CHOICE 2022-TOP-RATED SURVEY PANEL
Survey time Sign-up
Sign Up of survey time is very easy by sharing email or direct sign-up by sharing your existing Google, Facebook and Twitter account. You have to also answer a shortlist of questions in order to update your profile.
No points systems
SurveyTime doesn't offer any complex points systems, and there is no waiting to be paid for the finish of a survey. For every survey you take, you will receive $1.00 instantly.
Earn PayPal and e-gift cards
You can redeem your $1.00 payment to your PayPal account, or pick from an e-gift card from retailers including Amazon, Walmart, Target, etc. Note that rewards options will differ from country to country.
ALSO, CHECKOUT- 48 METHODS TO GET FREE AMAZON GIFT CARDS.
The device of your choice
Surveys allowed by Surveytime are always mobile-friendly; take surveys from your desktop, tablet or phone – your choice. You can also get informed of new surveys via e-mail, SMS, or in your browser. See this subscription option in your account settings.
International Accessible
Unlike most survey panels, SurveyTime is actually international; no matter where you're from come from, SurveyTime allows you to participate and be eligible for making $1.00 instant payments.
Eligibility: Open to residents worldwide
Related: Top International Survey Sites
Is it possible to receive help on it?
One quirk regarding Surveytime is that I couldn't find any contact information for their customer service on the website at first.
There is a FAQ section with answers to most questions, but no contact information. However, I was able to locate an email address to provide help for their privacy policy.
But I double-checked with Surveytime, and it turns out it was not the best approach to contact them. They told me that the easiest approach to contact support is to send an email to tommy@surveytime.io. You can also try contacting them via their Facebook page.
Many people have told me that they have been unable to contact Surveytime since I first published this review and that it often takes many mails to reach them.
However, it appears that help is intermittent — sometimes they respond quickly, and other times there is a significant period of silence. This is based not only on my personal experience but also on the input I receive from visitors to this page.
So getting in touch with their assistance can take some time, and you might be lucky and get a quick response. Personally, I'm hoping that this will become more stable soon, as it isn't perfect right now.
ALSO, CHECKOUT- 48 METHODS TO GET FREE AMAZON GIFT CARDS.
Complaints about survey time
I've received a lot of comments from folks who have tried Surveytime since I first posted my evaluation. Some individuals adore it and get fantastic results from it, while others have issues with it.
Several people have told me that they have completed a survey but that they have received an error and that the money has been delayed. That can happen at times, but based on the input I've received, it appears to happen frequently on Surveytime in several regions.
Another criticism I hear is about not being able to receive a rapid response from support when there are technical issues - since technical issues can occur on any site, but what matters is how quickly the support team resolves them. But I've already discussed this in-depth above.
I want to be clear that I've never had any issues with Surveytime, and I've also heard from folks who adore it and do quite well on it.
But I also know that this is not everyone's experience, so I wanted to include this piece here so you can get a more complete view of what the site has to offer, as well as the potential benefits and drawbacks, before determining whether it is right for you.
CHECKOUT:- PEOPLE'S CHOICE 2022-TOP-RATED SURVEY PANEL
Final Verdict
Survey Time is a legitimate and easy-to-use survey platform that pays out rapidly.
This does not necessarily imply that it is the most appropriate website for you. So, to wrap things up, let's summarise the pros and cons of some conclusions to assist you to decide whether or not to join.
Pros:

Joining is completely free.

Available throughout the world

It pays out rapidly.

Normally, opportunities arise on a daily basis.

Very simple to use
Cons:

You are unable to choose when you want a payout.

Support can be a little slow at times.

At times, there have been some concerns concerning technological issues.
Overall, I find Surveytime to be very user-friendly after you get used to how it differs from most other survey sites in how it operates.
If it is the proper platform for you, it will be determined by a number of factors, including your payout preferences.
If you prefer immediate gratification, Surveytime offers some excellent prizes for short surveys, and you receive your money straight away.
Other survey sites should be considered instead if you like to accumulate more money in your account before cashing out.
One thing to keep in mind is that if you have any issues with the site, the help is not the most responsive. I've had no issues and have always been paid on time. However, if you run into problems, you may need to be patient with their support.
Please, Let me know your opinions and experiences below with this article. I would love to hear from you. Also, don't forget to bookmark this page for getting interesting articles. Have a good day!
If you do happen to still have any further questions or comments though that you feel I haven't covered then don't hesitate to leave them below. As always I'll do my best to answer your queries as soon as possible.
CHECKOUT:- PEOPLE'S CHOICE 2022-TOP-RATED SURVEY PANEL
ALSO, READ OUR RECENT ARTICLES:-
How To Make Money From Facebook (Earn a Passive Income)
Data Entry Clerk Jobs (Earn up to $17 per hour)
8 Best Ways to Exchange Coins for Cash (Boost Your Savings)