MobilExpression Reviews
Mobilexpression Review: Legit or Scam? (EARN AUTOMATICALLY)
MobileXpression is a legitimate website that lets you earn points and convert them into gift cards without having to do anything. However, earning requires patience, and not everyone is eligible to participate.
MobileXpression is a survey site with a difference (more on that later) that pays you to share your thoughts.
Is MobileXpression, on the other hand, a legitimate business or a rip-off to avoid?
Let me just say right now that this is a legitimate website that pays you to do surveys and provide information via your cell phone.
This does not, however, imply that it will be worthwhile to participate.

As a result, our MobileXpression review will tell you all you need to know so you know precisely what to expect and can quickly determine whether or not this is a service you want to join.
Table Of Contents
What exactly is MobileXpression and what offerings does it provide?

?

Option 1 – App for mobile devices

Option 2 – Surveys on mobile devices

What method would you use to get paid?

How much money do you think you'll be able to make?

Is it possible to utilize it on a mobile device?

Who is eligible to participate in MobileXpression?

Is it possible to receive support?

The Final Thoughts
What exactly is MobileXpression and what offerings does it provide?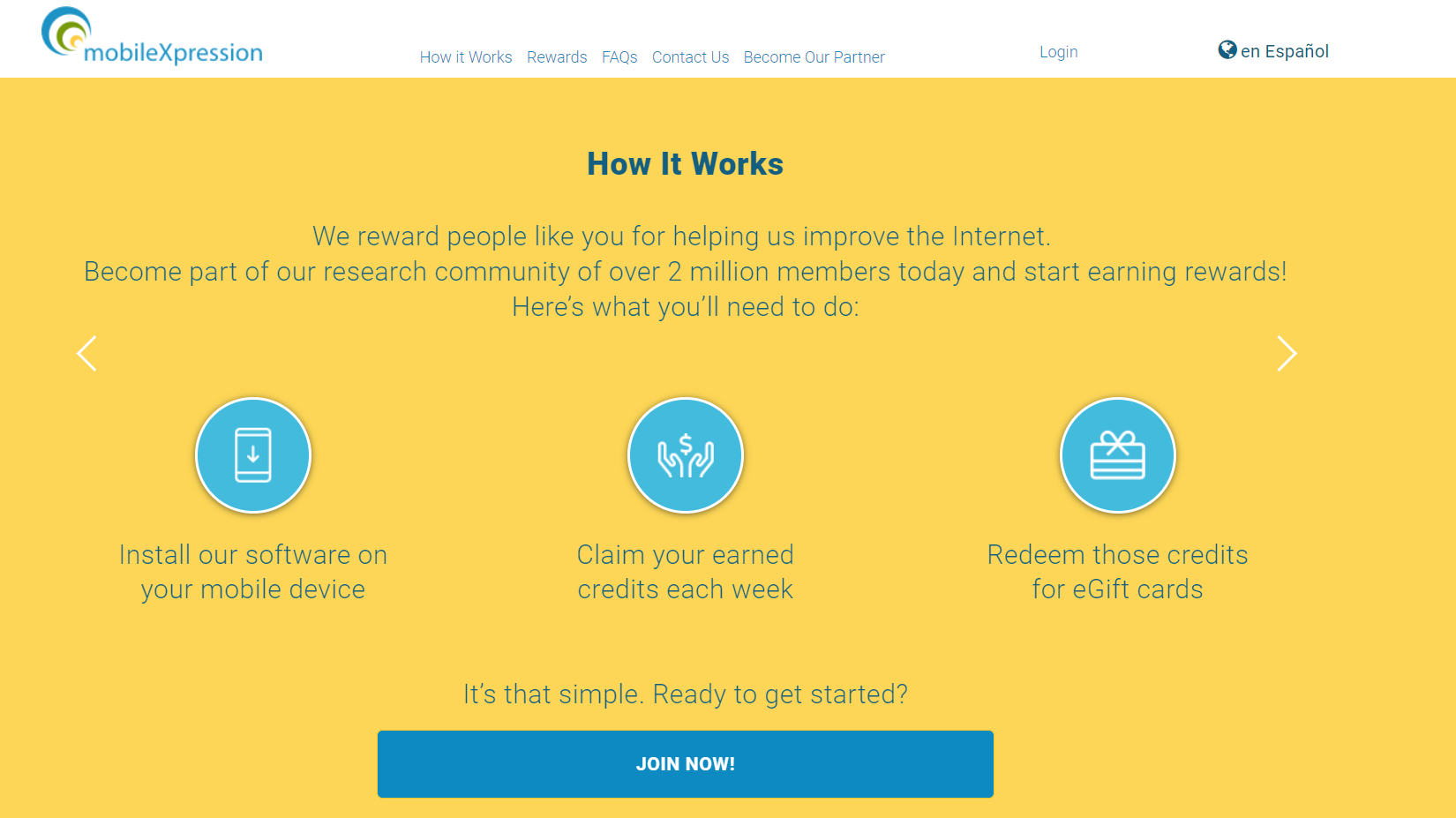 MobileXpression is essentially a market research panel that will pay you for any information you provide.
Comscore, a well-known leader in internet behaviour and trends, owns it.
MobileXpression is a smartphone application that collects information about your online behaviour (anonymously).
It's actually quite unique in that, it works mostly in the background. As a result, you're literally making money while you sleep.
> Recommended: See the Best Survey Sites In Your Country
Option 1 – App for mobile devices
MobileXpression's smartphone app is where you'll make the most money. The beauty of MobileXpression is that you may earn money without having to do anything. All you have to do now is download the app and you'll be earning money passively.
Once the mobile app is installed, simply hit the new icon, and it will prompt you to grant MobileXpression access to collect data from your device.
It genuinely collects information about your online and other actions on your mobile device.
This is a cool little technique to earn money without having to do anything or complete any tasks, in my opinion. However, if you're worried about software that tracks your every move, this could be a deal-breaker.
That's because it accomplishes just that. That is exactly what their app is for. It gathers anonymous data from all of its clients and combines it to research mobile internet usage trends.
Companies are eager to pay for market research that will help them make informed decisions about their mobile marketing initiatives. This is how you can be compensated for having the MobileXpression software installed.
They do promise that personal information such as credit card numbers, passwords, and other sensitive information will not be gathered.
Option 2 – Surveys On Mobile Devices
MobileXpression may also send you survey invites from time to time.
There isn't much information on their site about the surveys they offer, but it functions similarly to any other survey site.
You receive an offer to participate in a survey. As an incentive for completing the survey, a monetary value will be displayed.
The surveys are mostly used to gather information for their partner companies. After all, MobileXpression is a market research panel.
If you are not eligible for a survey, you will be told as soon as possible. So you won't have to waste time filling out a survey that won't benefit you.
However, because the surveys are only supplied on a limited basis, you won't be able to make a lot of money from them. The main way to make money on MobileXpression is to install the software.
> Click to Check Out MobileXpression for Yourself
What method would you use to get paid?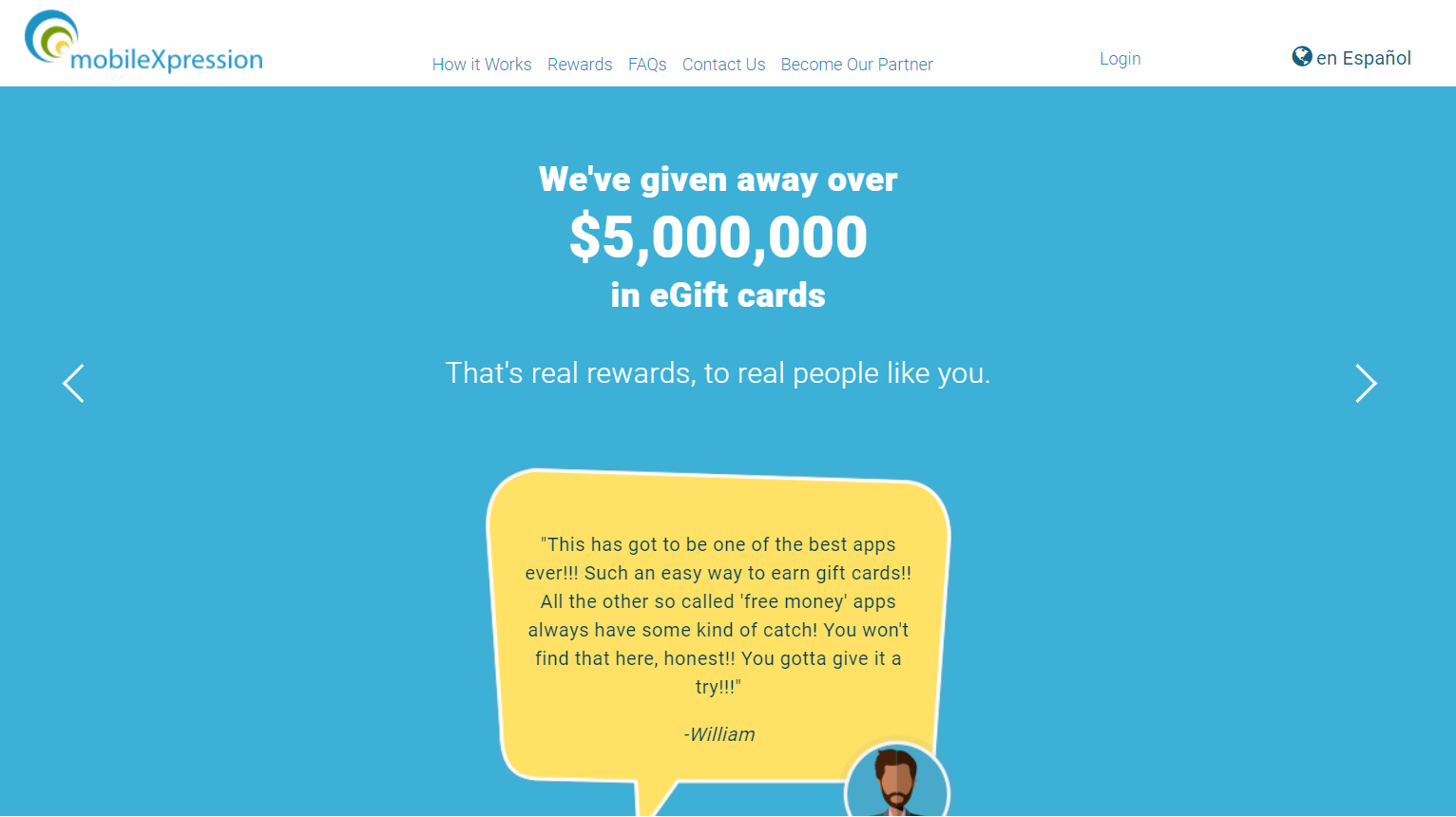 You are not awarded with points in MobileXpression. You will instead be given credit.
When you check in to their dashboard, you'll see all of the credits you've earned.
All of your MobilXpression earnings will be converted into credits. They use this as their money.
After that, you can exchange your credits for a reward from their rewards catalog.
Every week when the app is installed on your mobile device, you will be able to earn credits. You will be able to claim a $5 gift card of your choosing after your first week of use. According to their website, they have a large number of retailers from which to choose.
You may check your credit balance by logging into the app. The reasoning behind collecting credits using their mobile app is that the more time you spend using it, the more credits you get.
It is completely achievable, in my opinion, because you don't have to do anything other than what you typically do with your mobile device.
Unfortunately, there was no information on their website about how many credits will be credited to your account weekly. However, they guarantee that every week you participate, you will receive a $5 gift card.
Related : 48 METHODS To Get Free Amazon Gift Cards in 2022
How much money do you think you'll be able to make?
Unfortunately, MobileXpression will not allow you to earn actual money. Gift cards are the only thing you can acquire from them.
Even if you can't earn money, you can still obtain gift cards that you like, which might be just as wonderful as cash. It's all a matter of personal preference, honestly.
But, if you are looking to earn cash, I recommend you check out the best PayPal survey sites instead.
According to the feedback I've received from members, MobileXpression holds weekly prize draws, which is why they remain longer.
I can't confirm it because their website doesn't mention anything regarding weekly prize draws. Also, you can't count on it as a source of revenue because it is entirely dependent on luck.
Another thing to consider when thinking about revenue is that their app will require a constant internet connection on your mobile device.
As a result, it will naturally consume data from your mobile data plan. I'm just not sure if the amount of data consumed will be considerable. However, if you do not have a data plan with unlimited data usage, it is something to think about.
Is it possible to utilize it on a mobile device?
As you can see, it's a mobile-focused market research firm, and as previously stated, you'll need an app to get started earning. In reality, you'll have to download two apps.
MobileXpression is the main app, and it's the one that performs everything. MobileXpression Connect is the other app.
These apps are not available for download on Google Play or Apple App Stores. The only method to get their apps is to register and then click on the download link they offer you.
To install it, you must first access the download link on your mobile device. You can choose to receive a download link for your smartphone or tablet.
As previously said, MobileXpression is the core software that handles everything. The MobileXpression Connect app is a virtual private network (VPN) that allows your smartphone to communicate with their servers and receive updates on your rewards.
One thing to keep in mind when installing the applications is that all of the required permissions must be enabled before you can use them.
Also, a very important thing you need to be aware of regarding the MobileXpression VPN is that you will then have a VPN on your phone which, in general, is not a problem.
A VPN, on the other hand, can be used to disguise one's location, and some people use them to try to cheat survey and Get-Paid-To (GPT) sites by pretending to be from a country they aren't. As a result, most surveys and GPTs will detect if you use a VPN and, in order to prevent fraud, will often ban your account if you do.
This isn't an issue if MobileXpression is your sole way to earn money by providing feedback. However, if you utilize other survey sites, this could be an issue. If that's the case, don't take surveys from other websites on the device you've installed MobileXpression on.
You'll be able to stay out of trouble this way.
MUST-READ : Earn Money From Apps: 21 Best apps to earn up to $1000
Who is eligible to participate in MobileXpression?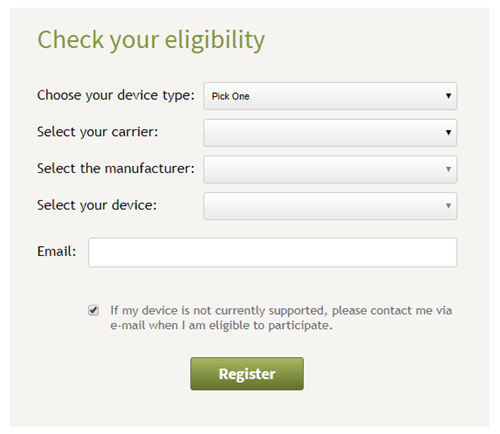 Anyone over the age of 18 can join MobileXpression as long as they have a mobile device that is compatible with their apps, according to their website.
During registration, you will be asked to choose the mobile device you will use.
However, when attempting to register, it also states that it is only available in a limited number of countries. It does not, however, indicate which ones, which is a little confusing.
However, if you are interested in participating, the easiest way to find out is to try to register on the website and see whether it is available in your country.
You must pick the device you are using while registering, as indicated in the image above. Unfortunately, if your device isn't listed among the options, it isn't compatible with their apps.
They will also send a download link that is specific to the device you specified when you enrolled. The program will only be installed if the installer determines that the device you selected during the registration procedure is the same.
They will also send you a confirmation code by text message during registration to finalize the sign-up.
When I first signed up, I discovered that you had to choose your network carrier as well. So it appears that you may only join if your network provider is on their list of supported carriers.
You must log in to the app and go to My Devices if you want to add another mobile device because you switched phones or just want to be able to utilize their app on a different mobile device.
You can then make changes to your current mobile device's information, add new devices, or remove devices from your account.
Their system, in my opinion, is a little more convoluted than other mobile-based apps, making it less user-friendly than you might expect.
MUST-READ - 10 Best legitimate paid survey sites you will need in 2022
Is it possible to receive support?
Although utilizing their mobile app is more complicated, and their FAQs page doesn't cover everything you'll need, it's a good thing they have customer support.
You can use the contact form to contact their customer service team.
Their FAQs section contains everything you need to know, but if you have a more particular or technical question, you can always contact them via the contact form.
You must, as you can see, provide information about your mobile device.
This is, unfortunately, your only option for contacting them. They don't have an address or a phone number on their website.
A quick look at their Facebook profile indicates that they haven't updated anything in a long time, and you can't get in touch with them. As a result, the contact form they provide contains their entire support system.
However, many clients are disappointed with the customer support, according to various Trustpilot reviews.
Some, on the other hand, consider it to be incredible. As a result, the support appears unbalanced. If you need help and don't get a response straight away, keep writing until you do.
MUST-READ - 10 Best legitimate paid survey sites you will need in 2022
Final Thoughts
MobileXpression is, for all intents and purposes, a legitimate website that promises to reward you with gift cards in exchange for the information you submit while installing the app.
Let's wrap up this review with a summary of MobileXpression's benefits and drawbacks to help you decide if you want to join.
Pros:

The payment threshold is low.
Significant source of passive income
Cons:

This app is only for use on mobile devices.
You're not going to make any money from it.
Despite its loss of privacy, the program assures that no personal information is collected.
Your mobile device will need to be connected to the internet at all times.
The number of survey invites is infrequent.
As you can see, MobileXpression's lack of adaptability is the primary drawback, despite the fact that it allows you to earn without having to do anything.
When I mention "lack of adaptability," I'm referring to the fact that MobileXpression can only be used on a mobile device.
Although some may say that it is a fantastic system because it allows you to be on the road at all times, having the option to do it on a desktop or even a laptop would have been preferable. This is especially true when it comes to survey responses.

Furthermore, it does not permit you to earn real money.
If you want to make money, I recommend checking into the top survey sites in your area. There are other websites that provide higher earning chances.
However, if you don't mind having the app installed, it's a simple method to get free gift cards.