Earnably Review
Blog Earnably Review: Legit or Scam? (Instant Reward)
Earnably Review: Legit or Scam? (Instant Reward)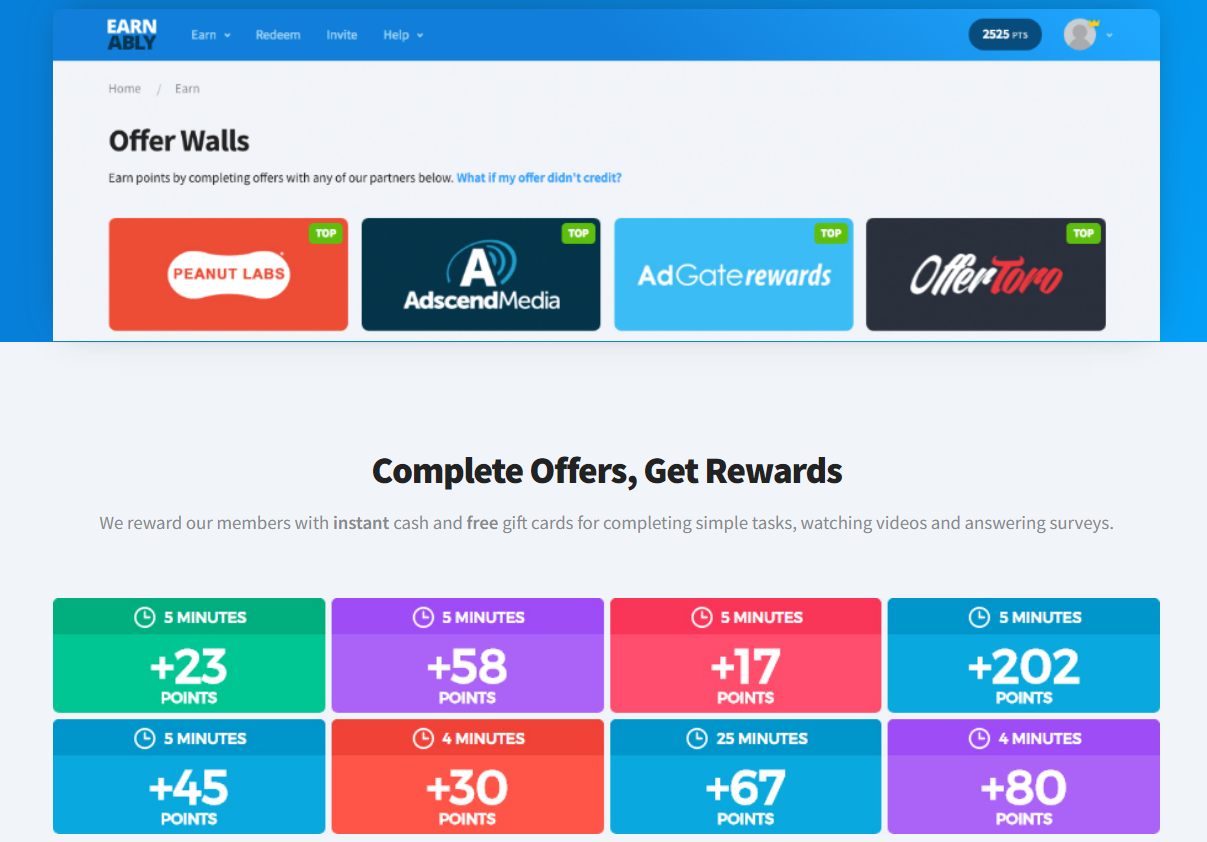 "Earn instant rewards by completing tasks, watching videos and taking surveys"- Earnably.
It's that easy! But can you really earn "instant rewards"?
Is Earnably a scam or is it really the best chance out there when it comes to paid surveys? In this Earnably review, your all doubts will clear.
I have tried Earnably thoroughly, and in this Earnably review, you will get all the details about what you can expect from this site, how much money you can make as a user, and if it is even legit, so you can easily find out, if it is the perfect option for you or not.
Let's get started with Earnably review in detail.
Table of Contents
About Earnably?
Earnably is a cashback and rewards online survey panel. It was launched in April 2015. The company has joined with various businesses, who provided the offers that you will need to finish to earn points. The points you will earn will depend on the offer that you are completing.
It has an easy and smooth interface so it is easy to get started. The sign-up process is also very quick and easy. People who are interested in Earnably can create an account with this survey panel for free in return they are rewarded by Amazon gift cards, PayPal cash, or credits toward Spotify and iTunes, etc for completing different tasks.
But, most of their offers are for the US, UK, Australia, Europe, and Canada users only.
Signing Up For Earnably
The sign-up process is also very quick and easy as stated above. Firstly, visit their site. Drop your email address, and generate a username and password to get started.
After this, You have to verify your email. An email will be sent to your email address so that you can verify it. After verifying your mail, you have access to your account along with the main offer wall placed there.
There is an offer wall but they listed a lot of third-party sites for their offers. Honestly, these are fine, and many survey sites list them.
How to make money with Earnably?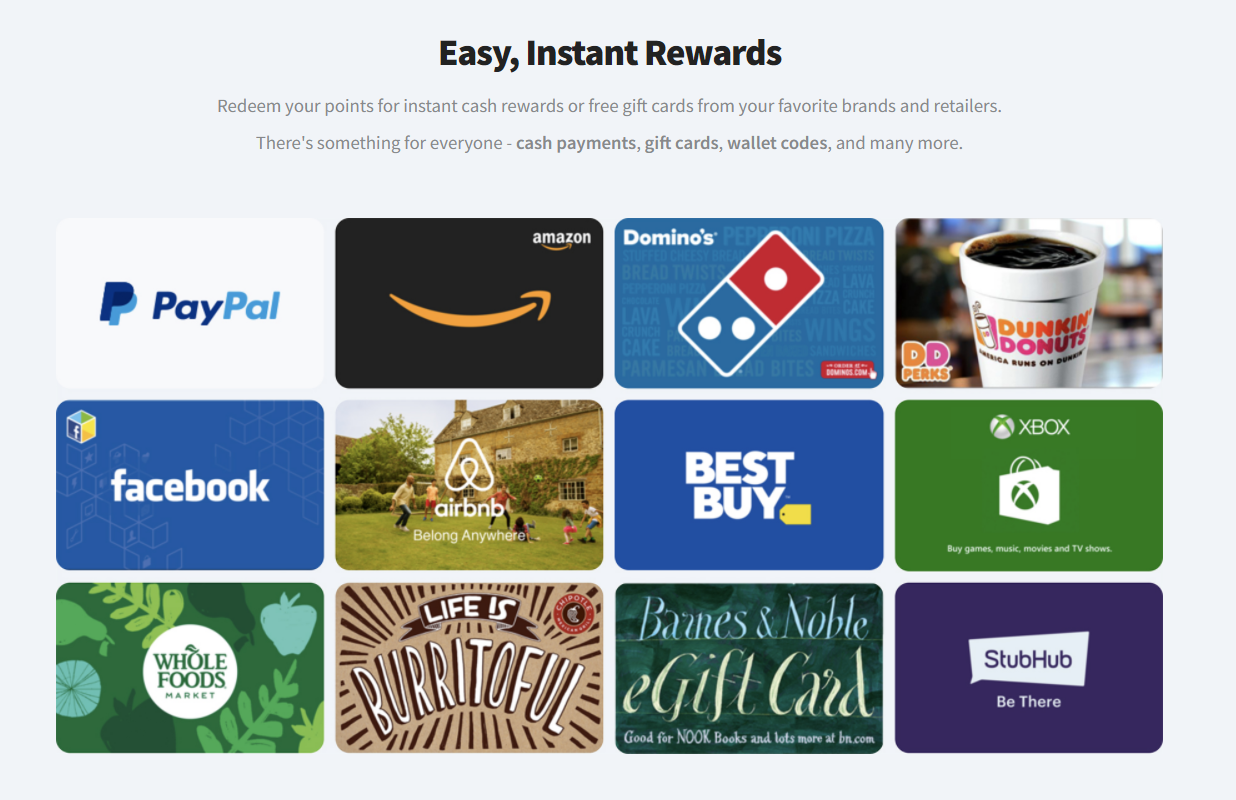 Earnably has various ways to make money and also offer a few different ways to earn points. I have listed all of the ways below. Basically, I noticed that most ways to make money are given by third-party companies. This really doesn't make a variation and does give you more making money opportunities.
1. Offers
Earnably has various offers you will find free and paid offers both. Free offers include registering for free membership sites and filling out forms. These are free and normally pay from 50-100 points each.
The paid offers normally include buying goods or registering for a free trial. These paid offers pay higher, normally between 300-500 points, but do you want to pay money or give out your credit card details for a free trial. If you're going to join for a free trial make sure to eliminate your trial before your card is debited.
2. Daily Surveys
Earnably has five various companies that offer surveys listed. Users are paid to complete the surveys, which will differ in terms of length and what they pay. Earnably also tells its users about the surveys, the time to complete the survey, and the reward amount. Most of the surveys pay 50-150 points and take 15-30 minutes to complete the survey. There are also some surveys that pay more but take time longer.
3. Videos
Earnably has 3 various companies that offer paid videos. All you need to do is watch the full video by clicking on the video. The process changes with other companies. Most of the companies pay between 0.5-1 point. Normally, the length of the videos is 30-60 seconds. There is also another longer video section of 2 minutes or more.
4. Radio
Earnably pays for listening to their online radio. They pay for every 10 minutes of the radio you listen to a certain station. You will earn 0.5 points for this. You will have to put a code on every ten minutes so you will actually earn points.
5. Tasks
You will find sites that pay you to finish small tasks in this section. These normally have to do with visiting a website or filling out a form. The payment for these tasks is very few, but these are very easy to complete and only take very little time to complete.
6. Referral Program
Earnably also offers a lifetime referral program. In this program, you will earn 10% of your referrals lifetime earnings. Apart from this, your referral will also get 100 extra sign up points for joining with you.
They allow you easy social media buttons to share, your referral link. You can also invite people via Facebook. The referral program is an easy way to earn extra cash and people will earn points for you which is the best thing.
ALSO CHECKOUT- 48 METHODS TO GET FREE AMAZON GIFT CARDS.
Payment Methods
Earnably has various payment methods. The rewards can redeem through PayPal Cash or different gift cards. Basically, they offer 30 different gift cards option that you can claim your gift cards as per your choice.
Is Earnably Mobile-Friendly?
Yes, Earnably is mobile friendly. Basically, They don't have a personal app in the app store yet but their site is optimized for Android and iOS. You can access their site on your smartphone web browser.
You can access their site and complete their offers anywhere even you are travelling or at the coffee shop. As per their FAQ, they are hoping to create an app soon.
Related: Earn Money From Apps
Is Earnably a Scam or a Legit?
From all my Earnably review, I can say that it is a legit survey panel. It will really pay you the points which you have earned, as long as you are able to finish the offers or perform the tasks given. You can get your money within 48 hours after redeeming your points. After my Earnably review, I can say it is not a scam.
Final Verdict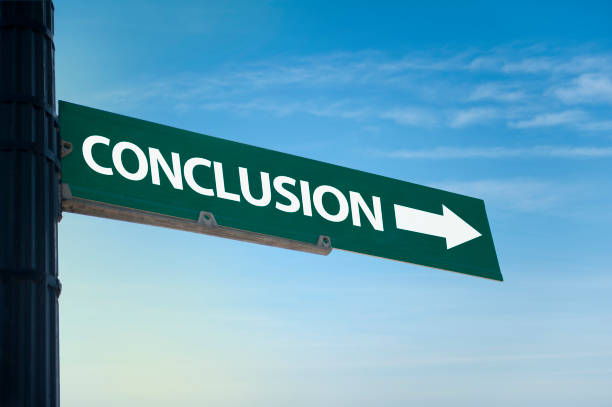 According to my Earnably review, you can make a few money by using Earnably. Basically, I don't use this type of survey panels for myself. I don't see any good earning opportunity to use this site by doing those mini-tasks.
Apart from all, I like Earnably and it is so simple to use. It is a legit and real way to make some extra money. You can try it if you don't register any survey site yet.
Hence, I would recommend you to check out the best survey site that really pays you to get the best worth for your time.
If you do happen to still have any further questions or comments though that you feel I haven't covered then don't hesitate to leave them below & as always I'll do my best to answer your queries as soon as possible.
CHECKOUT:- PEOPLE CHOICE 2022
ALSO, READ OUR RECENT ARTICLES:-
How To Make Money From Facebook (Earn a Passive Income)
Data Entry Clerk Jobs (Earn up to $17 per hour)
8 Best Ways to Exchange Coins for Cash (Boost Your Savings)