Canview Connect Review
CANVIEW CONNECT Review: Get Free $3 For Sign-up
Canview Connect is the latest survey panel for Canadians and has been listed on the fun-surveys survey list. Make cash paid by cheque for taking online surveys on your desktop or smartphone, and get a joining reward for joining this interesting new community! Let's get started with Canview Connect review
Table of Contents
About Canview Connect
Who can Sign-up?
Free $3 joining bonus!
Make cash payments
Fair survey rewards
Get Bonus Point

Who is eligible to join Canview Connect?

Is it possible to receive assistance?
Final Verdict
About Canview Connect

Canview Connect is the Consumer Panel Website of Canadian Viewpoint, one of Canada's biggest opinion data gathering companies with special expertise in quantitative fieldwork. Recently, we have extended our coverage to include Canada, the U.S., and other global centers. Canadian Viewpoint is well recognized as a research industry leader in project management and data gathering services.
Users get an email invitation when a study becomes accessible that they may qualify for. The invitation includes a link to the survey and also contains some basic details about the survey such as the topic, the period of the interview and the amount of consideration.
MUST-READ - 10 Best legitimate paid survey sites you will need in 2022
Who can Sign-up?
Canview Connect survey panel is only for residents of Canada. You must above 16 to join this panel.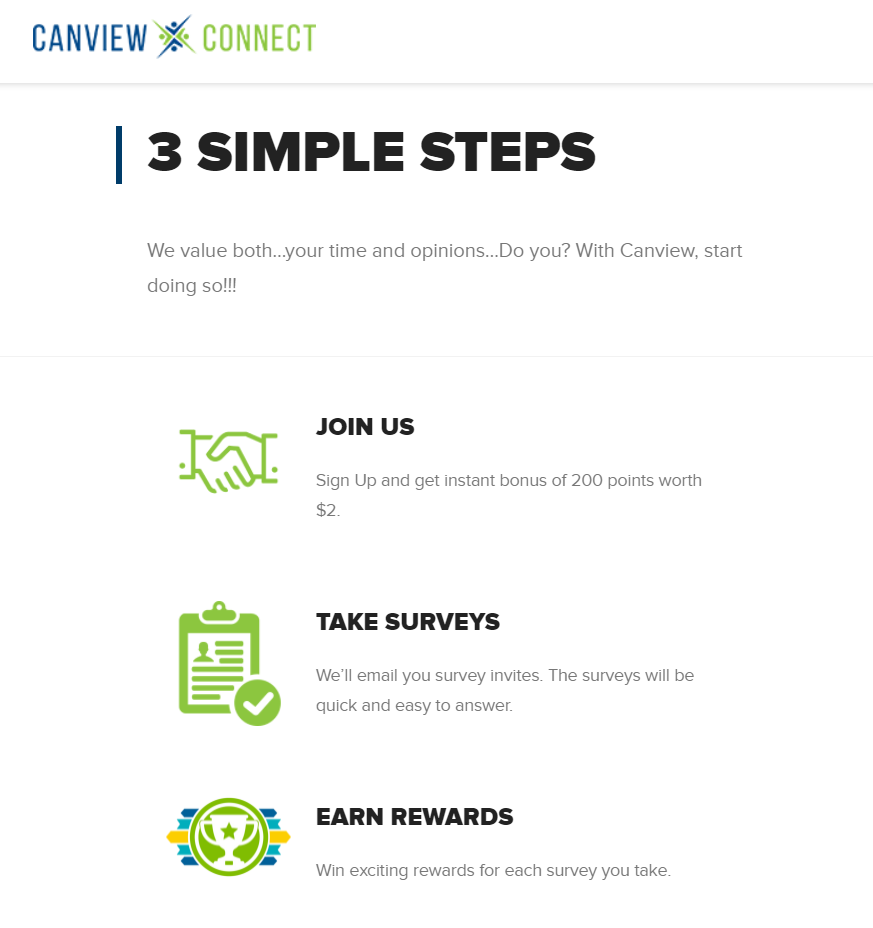 Free $3 joining bonus!
New users of Canview Connect will get a $3 (300 point) joining bonus after verifying their email and finishing the profile surveys. With a low least cashout set at just $10, you'll be 30% of the way to getting your first payment!
Make cash payments
With just $10 (1000 points) in your account, you can demand a paycheque that will be sent to you. After your first cashout, just $5 will be required in your account for your next payment!
Fair survey rewards
Canview Connect promotes some of the highest pay offered for survey completion. Survey times will range between 1-30 minutes with considerations depending upon the term and complexity of the survey.
Get Bonus Point
Get bonus points for survey attempts, successful finish, inviting friends, and even after you demand your first reward! Daily and monthly points sweepstakes chances are also available.
MUST-READ - 10 Best legitimate paid survey sites you will need in 2022
Who is eligible to join Canview Connect?
Only Canadian residents have access to Canview Connect. This website is not for you if you live somewhere else. This also implies that the website's currency is Canadian dollars.
Now, if you are interested in more survey sites for Canadian residents, I would recommend you check out the top survey sites in Canada as well.
Fill out their sign-up form and confirm your registration to become a member. To participate in their survey panel, you must be at least 18 years old. After that, you must complete their registration form.
After that, Canview Connect will send you a confirmation email. To complete your registration, simply click the confirmation link.
After you've done that, you'll get a $2 welcome bonus, which is a fantastic start in my opinion. There aren't many survey sites that provide a sign-up bonus.
It will speed up the process of reaching their payout criteria for the first time.
CHECKOUT:- PEOPLE'S CHOICE 2022-TOP-RATED SURVEY PANEL
Is it possible to receive assistance?
If you have any queries about the site or your account, there isn't a FAQ page that you can look at. The good news is that they have a phone number you may call if you need to speak with their customer service team straight away.
You can also email your questions by filling out their contact form on their website. Overall, even if they don't have a FAQ page, I would say that their site has a reasonable support system in place for their subscribers.
The reason I mention this is that having a phone number to call for help might be quite helpful if you have any issues while using the site. Many survey sites do not provide this type of support. However, I hope they include a FAQ page for a better overall user experience.
MUST-READ - 10 Best legitimate paid survey sites you will need in 2022
Final Verdict
Canview Connect is a legitimate survey platform that pays you to complete surveys. It offers a few useful features, but it also has several drawbacks that you should be aware of.
To give you an insight into everything the site has to offer, I'll summarize its pro's and cons at the end of this review. Then you can decide if you want to go ahead with it or not.
Pros:

Their website is responsive to mobile devices.

Provides reasonable rewards for completing surveys.
Cons:

Earning opportunities are limited.

Payment choices are limited.
In my opinion, if you are eligible to join this site, it can be a good secondary option. That is, assuming you have properly set your expectations. Because of the limited earning chances available, it will take some time before you can withdraw your money.
Plus, in my opinion, their payment mechanism is a little antiquated. You will have to wait at least a month before receiving your cash, which is a long time. If you're cool with that, go ahead and register as a member.
However, if you're looking for more creative ways to make money, I would recommend you check out the top survey and GPT sites in your country instead. All of the sites on this list have a high earning potential as well as simple payment options.
Please, Let me know your opinions and experiences below with this article. I would love to hear from you. Also, don't forget to bookmark this page for getting interesting articles. Have a good day!
If you do happen to still have any further questions or comments though that you feel I haven't covered then don't hesitate to leave them below. As always I'll do my best to answer your queries as soon as possible.
CHECKOUT:- PEOPLE'S CHOICE 2022-TOP-RATED SURVEY PANEL
ALSO, READ OUR RECENT ARTICLES:-
How To Make Money From Facebook (Earn a Passive Income)
Data Entry Clerk Jobs (Earn up to $17 per hour)
8 Best Ways to Exchange Coins for Cash (Boost Your Savings)