RapidoReach Review – Survey Offerwall
RapidoReach Review —2021 & Beyond

The world has become a global city. This is all thanks to the world wide web that now connects the entire world. Because of these links, people can trade ideas easily and also compete in various areas. Speak about creating games, apps, and so on. There are new ones with better features and ease of use popping up every day.
In the world of research, there have been a lot of shifts. It was seen as a significant step when people could conduct surveys online by getting invites through email and doing the surveys on the computer. It is still a famous way of taking surveys. But just like in other fields that are available online, the survey world is not static.
Survey sites are trying to defeat their competitors by making it easier for their survey-takers to take part in the surveys while also winning better rewards. One way they are using is ensuring that their users can take the surveys from anywhere. They do not need to wait for an email invitation to participate in surveys. They do not need to have access to a computer for them to answer questions. The world of online surveys is fast moving towards mobile apps that allow users to earn passively from anywhere. Rapidoreach online survey Offerwall aspires to make the survey-taking as simple as possible.
What are Rapidoreach Surveys and is using publishing sites a good way to earn? Yes.
RapidoReach is an online publishing website that works with both members and advertisers to help one make money and the other complete set tasks that are required for the launch and growth of their company.
A publishing site works in conjunction with an advertising site, which means you're completing activities that the market researcher/advertiser needs to be done.
About
RapidoReach is a market research (online sample) company that connects surveys to millions of respondents through mobile apps, games, and websites. They make it easy, cheap, and fast for you to make your views about certain products and services are known. They have an audience network through a collection of thousands of mobile apps where millions of respondents answer survey questions in the apps that they use daily.
Their primary ambition is to make research accessible and thrilling so that it becomes a reflexive behavior to answer the survey questions.
Before taking any survey on the site which has integrated Rapidoreach Offerwall, It shows the survey's length and how much you will earn. This helps you make a better decision whether you want to continue with the survey or not.
RapidoReach brings market research to mobile devices through its wide range of SDK offerings for almost all the platforms like IOS, Android, React Native, Flutter, etc. It brings a way to connect surveys with high-quality respondents through mobile devices. The respondents go through identity and quality checks to make the surveys confident that the respondents are actually who they say they are.
Description – RapidoReach is a survey site that connects thousands of respondents through mobile apps, websites, and games. As we all know, the goal of all the surveys is to help respondents give their views about products and services that they use. Companies and other institutions then use these responses in making decisions regarding making their products and services better.
RapidoReach Summary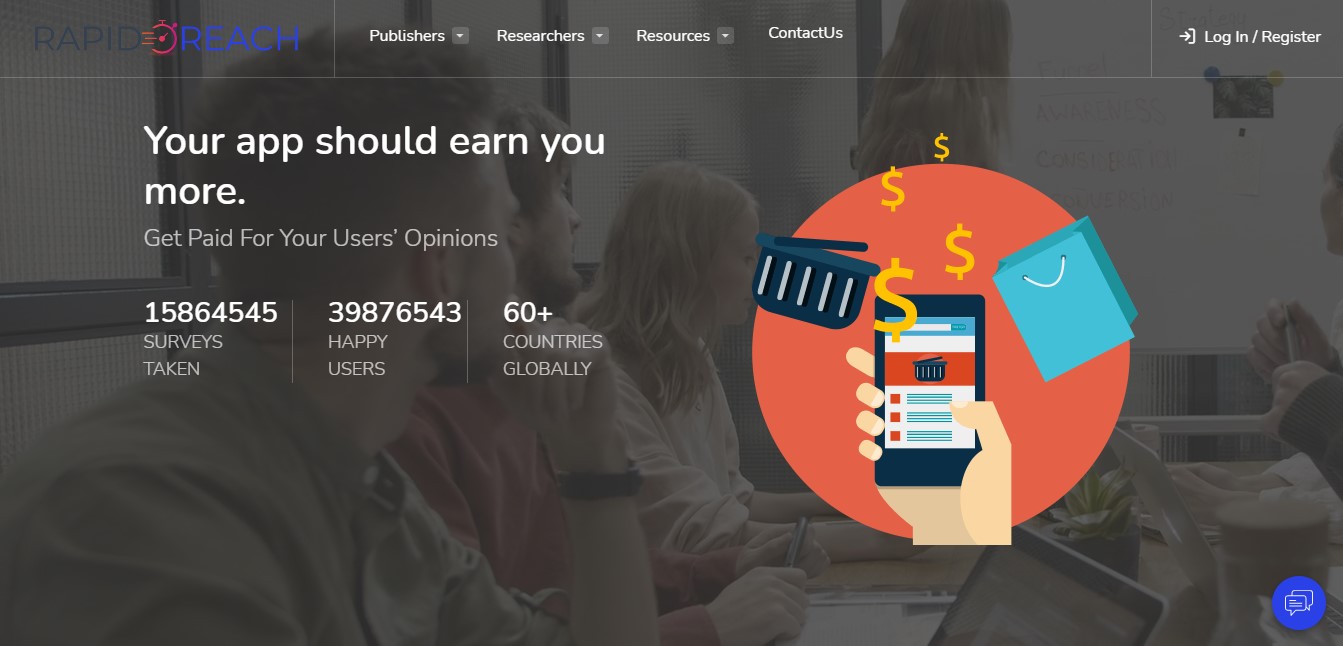 That is what RapidoReach does. They are an intermediary between market researchers, advertisers, businesses, and their customers/respondents. They help the companies get views from their customers about their products. The advantage of joining the Rapidoreach survey sample marketplace is that it promises to make it cheap, fast, and easy for businesses to know what their customers think, feel, and do.
RapidoReach creates an Audience Network through the use of mobile apps, where millions of users answer questions about products in the apps they use every day.
RapidoReach has been in existence since 2020 and has grown to a profitable company through the guidance of its founder CEO, Vikash Kumar.
RapidoReach Audience
RapidoReach has already been integrated into hundreds of apps. This guarantees you access to millions of users daily from more than 30 countries. Everyone uses mobile apps, and they are spread across various portfolios, from games to fashion, utility apps, and entertainment. This means RapidoReach gives you access to any audience, including the young and old age groups. RapidoReach respondents earn through in-app rewards that can only be redeemed in the app that they are using. The respondents will also have to answer qualification questions in order to get a good user-level quality score to qualify for surveys.
Eligibility requirements
The service is not available for children below the age of 13 years. The company will not ask for personal information from those who are below that age. If you are from the EU (European Union), you are not eligible to participate in the market research survey if you are under 16 years.
How to sign up as a survey respondent?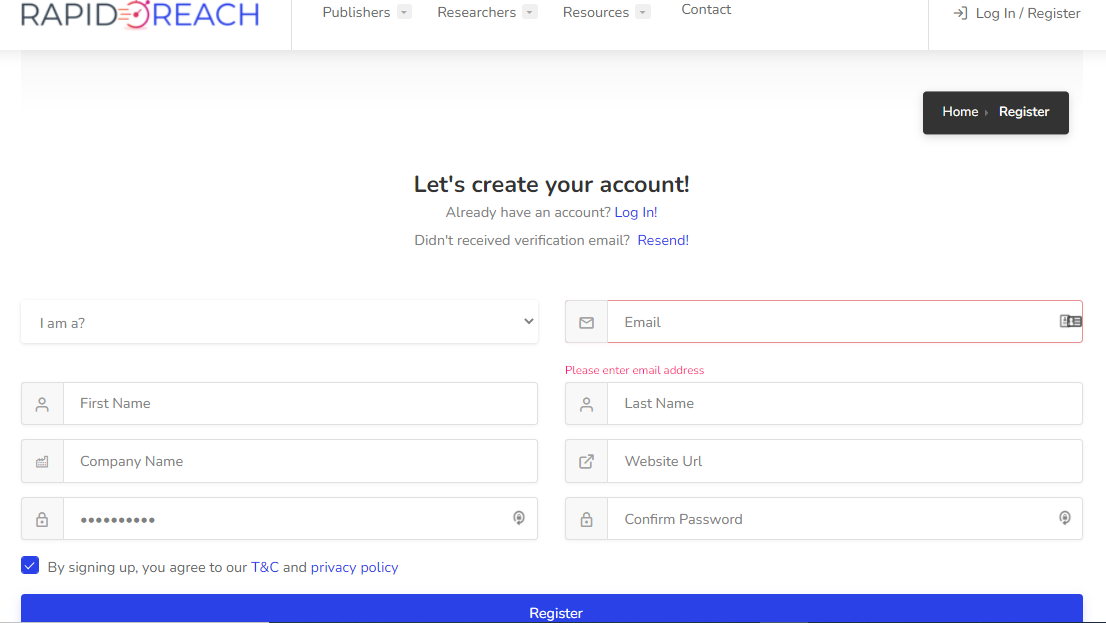 You can sign up on Rapidoreach as a survey taker. If you want to participate in Rapidoreach surveys you have to sign up on any of its partner publisher websites or apps like Wabash, Cinchbucks, etc.
You will have to update your Rapidoreach profile in their Offerwall so that the Rapidoreach can match you up with available surveys. As you update the profile, they will require you to give additional demographic information such as age, gender, postal code, marital status, education level, income, etc.
All this information will be valuable in deciding whether you qualify for a particular survey or not.
How RapidoReach works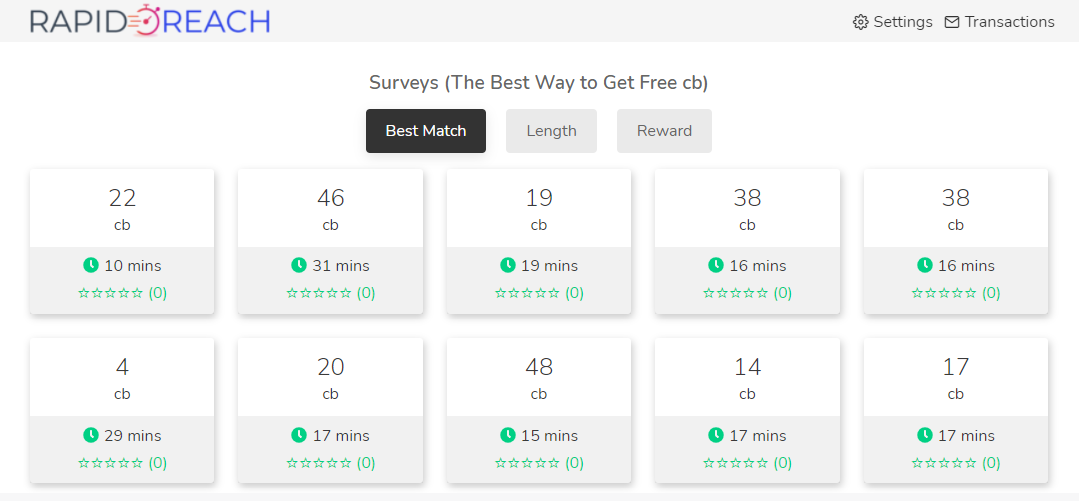 Rewarded provides surveys that users complete in exchange for in-app rewards or virtual currency.
Every company has an advertising budget, which also includes a market research budget. The market research results inform them while making key decisions about their products and services. The budget for market research is generally substantial. As such, businesses want superior consumer opinion data.
Traditional research uses panelists who sign up to take surveys each day, mostly on their computers. These panels do not represent the opinions of the population.
RapidoReach came up with a solution to connect researchers with top-quality respondents through mobile apps/games and offer people a better way of enjoying their favorite apps/games while also giving publishers a chance to earn some income. It connects people through mobile apps and games. These are ordinary people who use their phones and tablets every day.
Users do not have to download and install any Rapidoreach app, they can just signup on to any site/app connected to the Rapidoreach developer network.
RapidoReach for Market Researchers and Companies
Using a mobile sampling approach in taking surveys is less costly than traditional research methods like email surveys, phone interviews, etc. This is due to the fast and real-time sampling approach that the mobile sampling method offers. The marketing research company will not spend time and money recruiting respondents to the panel. They will engage the user in real-time. As a respondent, you will be taken through their profile, identity, and quality checks if you are new, then match you to the survey opportunities that you qualify to take. This is less costly.
RapidoReach rewards its users through virtual currency, which is highly valuable to the users and minimizes fraud. Also, RapidoReach uses advanced machine learning and AI techniques to reduce fraud and match you with top-quality surveys. They will pay users using the virtual currency of their app or game, which may include game coins. The best thing is that these rewards are not attractive to fraudsters who create significant challenges in the research industry.
How to earn on RapidoReach as a Developer
When you join RapidoReach as an app, game, and website developer, you get a chance to monetize your apps by helping your app/site users participate in Rapidoreach surveys using their survey router or Offerwall.
You get your reward every time your app user participates and completes a survey. The amount you earn depends on the CPI (cost per interview) and LOI(Length of interview) of the survey. The number of surveys your user can take depends on the user's demographics. It may also depend on how they answer the questions. If they answer the questions vaguely, then they may not get as many surveys as they would wish.
RapidoReach gives a high yield on iOS, Android, and hybrid platform apps like Flutter and React native.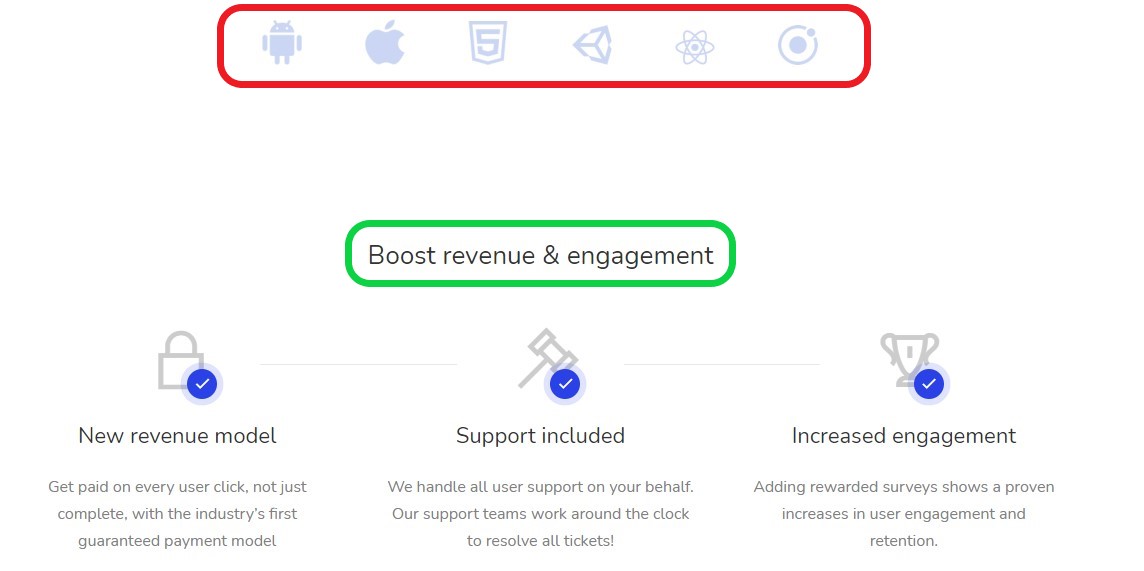 It is free of charge to sign up for RapidoReach as a developer, and it is a simple process that will take a few minutes.
Once you have an account, you will have to create an app or placement.
Once you are done with callback testing and setup.
You have to raise a request to go live with your app.
The company has a privacy policy that protects your data.
You can, therefore, be sure that your data will not be available to third parties without your consent.
For RapidoReach, the surveys are on your phone just like you use it every day. They are interesting.
Unlike other survey sites, the payouts at RapidoReach are relatively high.
The surveys are clear, concise, and fast, therefore they are more engaging for your end-users.
Would you suggest integrating Rapidoreach SDKs in our apps and games?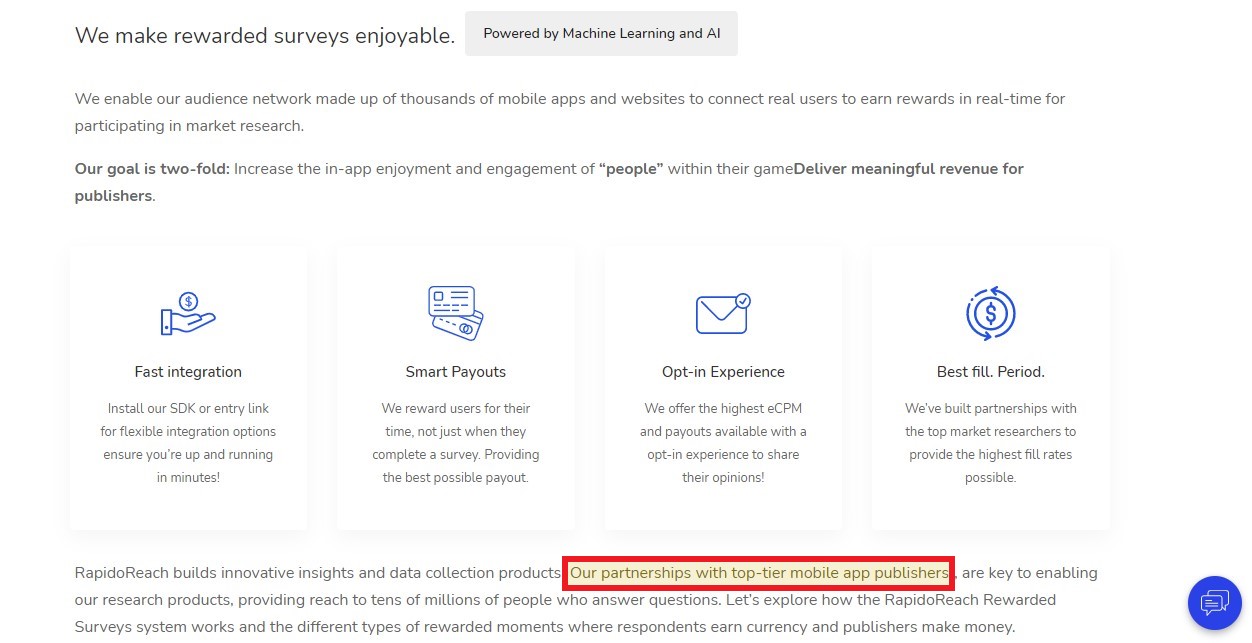 Yes, Definitely. RapidoReach is a legit market research company and monetization platform where you can join, help your users engage, and monetize your apps. The company does not charge anything for you to sign up. Developers receive payment on time.
FAQs
What is the RapidoReach market research marketplace?
RapidoReach is a company that has been in operation since 2020 under its founder, Vikash Kumar. It is an online survey site that provides mobile sampling, and it partners with mobile apps to offer surveys in exchange for virtual rewards.
Am I eligible to join the survey site having Rapidoreach Offerwall?
You are eligible to join the survey site as long as you are not under 13 years of age. If you are in the EU, you are free to join the survey site if you are not under 16 years. If you are below 13 and 16 years (EU), then the company will not collect personal information from you.
The survey site is available in over 30+ countries. You should also make sure you are a resident of one of the countries that RapidoReach operates in.
How do I join RapidoReach?
You have to join any website or app which has Rapidoreach SDKs integrated.
Conclusion
RapidoReach Marketplace offers an innovative way of taking part in online surveys. It is best for both the developer community as well as end-users, survey respondents. They offer surveys through mobile apps instead of the traditional way of inviting users through email. They provide a connection between surveys and high-quality respondents through mobile apps. Their pay is relatively high as compared to other sites.