13 Addicting Video Games
13 Addicting Video Games: Warning it makes you Insane
Are you game addicted and looking for addicting video games? Do you love playing video games? Some games are perfect for when we're on the go. We can play them in order to pass the time or for fun.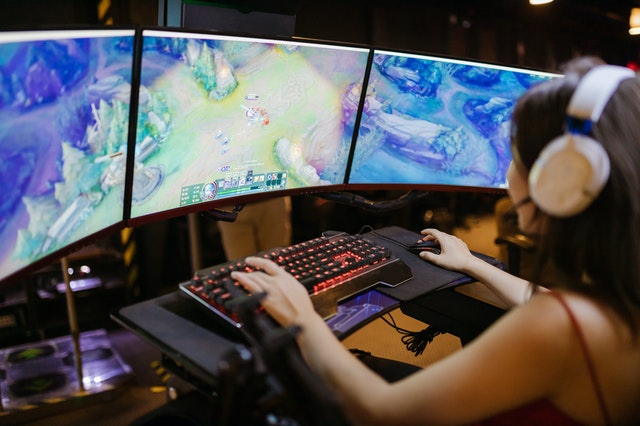 Others are not like that, they are so addictive that we forget everything when we started playing games. we've no worry about we have eaten or not, or if it's night or day outside. They are addictive beyond the mind, and if you've played even one of these games on the list, then you apparently know what I'm talking about.
Be careful! Today's list is full of extremely addicting video games that will manage your time and make you forget most of your daily routines. Warning….you just forget all things when you start playing these games.
Most Addicting Ever 2022
What's addicting about the GTA series, including its most popular series GTA 5, is the fact that they allow players to live out their deepest and scariest fantasies in a safe atmosphere, and blow off some cloud while also enjoying very exciting and stimulating missions. It is the most addicting video game ever
The game offers players various in-game options, which means that they can adjust their gameplay however they want. They can decide where to go on missions and enter into wild car pursuits or roam around the map, traveling and doing whatever it is they want.
The game has a large array of vehicles and weapons to choose from, and vast and beautiful surroundings to explore, which makes it one of the most addicting games ever made.
Minecraft is all about going on crafting and creating something from scratch, which is what makes this game super enjoyable and addicting.
You can do almost anything you want, as it has multiple available mods, some of which are more exacting, like the survival mode, and somewhere you can do essentially anything.
You can visit, travel the vast lands and the amazing endless map, and have a lot of fun in the process.
Since its release back in 2011, it has been wildly successful, particularly among younger players. The great thing about the game is that it wakes up your imaginative and artful side and keeps your attention by including exploration, travel, and building all in one game.
Don't forget to checkout Minecraft Game: You Must Know These Things About It
Counter-Strike is an FPS game that was first announced back in 1999. Since then there have been a lot of series released, the latest one being Counter-Strike: GO, which is a wildly famous series, especially among streamers.
But what we're here to talk about now is the very first/original and extremely addictive version of the game, which was really famous when I was in high school.
The game puts a team of Counter-Terrorists and Terrorists against each other in fast-paced gameplay where each team wants to finish particular goals and/or kill the other team's members in order to win. It is one of the most addicting video games ever.
The terrorists' job is to keep people hostage, or plant and explode a bomb, while the counter-terrorists work to defuse the bomb or protect the hostages. The gameplay depends essentially on the maps you choose to play. You have the choice to pick between hostage rescue maps, bomb defuses maps, assassination and escapes maps. The most played maps on Counter-Strike are cs_italy, cs_assault, de_dust, de_aztec, de_train, and several more.
Also Read
Top Money Making Apps for Earning Passive Income
DOTA 2 is a free-to-play MOBA game that was announced back in 2013, as a series to DotA (Defense of the Ancients).
The exciting thing about DOTA 2 is that it keeps you playing for hours on end, going from one match to the next, as you try to enhance your skills and get better with each match you play.
The matches in DOTA 2 include two separate teams with separate bases. The teams consist of 5 players each, and each of those players manages a different character or hero that has its own unique abilities.
Each player can get items and action points that will help him or her in the fight afterward. The team that leads to damaging the base of the opposite team first is the winner.
CHECKOUT:- PEOPLE'S CHOICE 2022-TOP-RATED SURVEY PANEL
World of Warcraft is an MMORPG with impressive features, stories, and gameplay where each player commands his or her own avatar, travels the map, attacks against various monsters, communicate with other players or non-player characters, and finishes quests.
The game is highly addicting and has a few various modes that will hold you engaged for hours at a time.
Here are the modes accessible in Wow. (PvE) mode where you require to finish quests and defeat monsters. PvP, where in addition to battling against monsters and finishing quests you can also involve in open PvP combat. Roleplay mode and combination of roleplay and PvP
PlayervUnknown's Battlegrounds or PUBG is a Battle Royale survival game that was announced in 2017 and instantly blew up.
The game got really positive and excellent reviews from the gaming community all over the world. This game was among the most addictive and famous games of 2017,2018 and 2019.
The quality that makes this game so addicting is the fact that you always feel like you can do a bit better next time, which gives you lose track of time, trying to improve on your errors in order to be the last player holding out of a hundred players.
The gameplay is very fast-paced and amazing which makes it so enjoyable and addictive. It is the most addicting video game.
PUBG is a PvP game that pits 100 players against each other in a last-man-standing battle on a vast map with supplies and weapons which they can use to obtain an edge over the other players. PUBG can be played solo and in a team of up to 4 people. Here is the last team or person holding the champion or winner position.
Overwatch is a multiplayer FPS, where 2 teams of 6 people fight against each other until there's only one team left.
The first thing you require to do is pick your hero, and choose which role you want to have: attack, defense, tank, or support.
Each role comes with its own capacities and powers and has specific goals that need to be completed.
What makes Overwatch so addicting is the point that the heroes can fight in various places across the world. Each map has a special and different layout and particular requirements which you need to reach before you can win. That's what makes the game always entertaining and exciting.
CHECKOUT:- PEOPLE'S CHOICE 2022-TOP-RATED SURVEY PANEL
The Elder Scrolls V: Skyrim is a battle RPG and the fifth sequel of the Elder Scrolls sequence. Your main journey as a player is to defeat Alduin, a dragon that wants to end the world. The game is placed in a fictional place known as Skyrim. It allows the players to travel easily and explore the wide world, as they did in the past installments.
Players can navigate through villages, towns, cities, dungeons, and forts by horse or through a quick traveling system. This enables them to bounce to earlier seen places.
Players can select whether or not they want to improve their own individual character. As well as whether they'd like to go on the main journey, or totally ignore it and make their gameplay as they want.
The Sims 4 is the newest release from the Sims group that was issued earlier this year. It is a life simulation game, that doesn't certainly have any special goals. That's what makes it interesting to so many players because it allows them the liberty to build their gameplay however they want.
For those of you who are not well-known with the Sims, here's how it works. You have to build a home and virtual people to live there. You can also have your Sims in earlier-built homes if you don't want to create one yourself. Once this part is done, what you need to do is take responsibility for your Sims and make sure they're happy.
Sims are very difficult individuals with particular wishes, needs, and concerns. They can have both an unusual character and physical appearance, which makes each of them distinct in their own way.
Your task is to plan their daily lives from birth to death, taking charge of their needs, wants, and everything else. It is one of the most addicting video games.
Fortnite Battle Royale is one of the newest games on today's list that managed to gain incredible popularity since its release less than a year ago.
Today, Fortnite Battle Royale is the most famous game on Twitch. Do you know it is one of the most searched games on Google in 2018?
Much of its fame is due to the fact that it's free-to-play, as well as the point that its gameplay is highly addicting and exciting. And it will have you involved for hours at a time, without even noticing it.
The purpose of the game is similar to PUBG's, although it varies a lot in the artwork, the uniqueness of personalities, skins, and some weapons, as well as the creating component that makes the game what it is.
Basically, the game follows the Battle Royale format, as it pits 100 players against each other until only one of them lasts. All players are fallen on an island where they need to search for weapons, ammo, bandages, armor, and other accessories that will help them survive. They can accumulate stuff that can, later on, be used to construct a house or to better cross the map.
They need to visit clear of the ever-approaching storm and avoid getting shot by other players.
The game can be played solo and in a group of 4 characters, and it is a really enjoyable and adrenaline-filled adventure, which always keeps you coming back for more.
League of Legends or LoL for short is a MOBA video game where characters pretend the role of a summoner and use it to manage their champion. Each champion has unique and different experiences which he or she controls.
There are various modes accessible, although the main purpose is normally to abolish the other team's nexus, which can be located in their base.
Each winner can improve their strength and obtain an edge over the other characters by acquiring expertise and items along the way.
LoL has a large and loving fan base, and its fame has grown excessively upon its release a decade ago. It is really one of the most addicting video games.
You won't even mark the time fly while you involve in unique real-time fights all across the universe, with 3 different races.
You start out with just one event and the next thing you know it's 5 hours later. And you're still as interested and passionate as you were for the various previous fights you played.
StarCraft 2 is a super exciting way to spend time. It allows a surprisingly exciting real-time strategy gameplay. It includes a lot of thinking and preparation in order to win the game.
Fallout 4 is also a post-apocalyptic game, the same as Fortnite, but with quite a complex gameplay.
In the Fallout sequence, each opponent takes charge over a character known as the Sole Survivor that has been in cryogenic stasis and appears out of the fallout house, 2 centuries after the Great War, and the atomic devastation it leads to.
The gameplay is related to that of the previous installations in the series, with a few extra features and a new equipment system.
The game features an extraordinary amount of dialogue, 111,000 lines to be exact, although players can move each conversation whenever they want and roam the map easily, spending hours and hours of time totally involved and engaged in the game.
Final Note:
I hope this 13 Addicting Video Games article is interesting and enjoyable for you. If you are a gamer then you must try it by playing each one.
Please, Let me know your opinions and experiences below with this article. I would love to hear from you. Also, don't forget to bookmark this page for getting interesting articles. Have a good day!
If you do happen to still have any further questions or comments though that you feel I haven't covered then don't hesitate to leave them below. As always I'll do my best to answer your queries as soon as possible.
ALSO, READ OUR RECENT ARTICLES:-
How To Make Money From Facebook (Earn a Passive Income)
Data Entry Clerk Jobs (Earn up to $17 per hour)
8 Best Ways to Exchange Coins for Cash (Boost Your Savings)
Earn Money From Apps: 21 Best apps to earn up to $1000